LiveSmart: Summer's Here and the Time is Right for Applying Sunscreen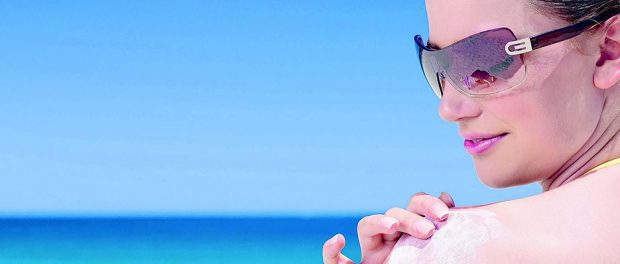 [This piece was written by Anne Lawton, RN, community outreach nurse, St. Peter's Health Partners, who is also a facilitator of The Butt Stops Here tobacco cessation program.]
The warm, sunny weather is here! Before leaving for the lake, a picnic, or to hike, remember to protect your skin from the sun. Taking a few minutes to apply sunscreen and cover up with a hat and shirt can make a huge difference not just for the day, but for a lifetime.
Sunburns, freckles and tans are all signs of sun damage to the skin and that damage accumulates over a lifetime. Not only does excessive exposure to the sun accelerate the aging process, it also increases your risk for skin cancer.
Skin cancer is the most common cancer diagnosed in the United States, according to the 2019 American Cancer Society Facts and Figures. People at the highest risk include those with red or blonde hair, blue or green eyes, fair or pale complexion and/or a family history or personal history of skin cancer, including melanoma, a potentially deadly form of skin cancer.
It is exposure to ultraviolet (UV) rays from the sun that causes harm to skin and, to protect yourself, the American Academy of Dermatology (AAD) recommends using sunscreen that is broad spectrum and waterproof and has a sun protection factor (SPF) of at least 30.
Safety concerns over the use of sunscreen have been raised in the news recently, with both the AAD and the Food and Drug Administration (FDA) announcing they are researching the concentration of chemicals used in sunscreen and any potential long-term health effects from its use. The FDA released a statement encouraging the use of sunscreen while the studies are underway, stressing its effectiveness as a way to decrease your risk for skin cancer.
FREE Sunscreen and Information
Saturday, June 29, 2019
Troy Farmers Market at Monument Square, River Street in Troy
St. Peter's Health Partners booth
9 a.m. to 2 p.m.
If you have concerns about using sunscreen, contact your primary care physician or dermatologist for recommendations and guidance. For the general population, the following recommendations still apply:
Sunscreen works by absorbing or reflecting the harmful UV rays from the sun and should be applied generously. The average adult requires one ounce of sunscreen (approximately a full shot glass) for maximum coverage.
Sunscreen breaks down and rubs off, especially if you are swimming or sweating in hot conditions, so it needs to be reapplied every two hours.
Wear a broad brimmed hat, a long sleeve UV protective shirt, long pants and shoes when in the sun.
Stay out of the sun between the hours of 10 a.m. to 4 p.m.
Stop and see me at the St. Peter's Health Partners booth on Saturday, June 29, at the Troy Farmers Market at Monument Square, River Street in Troy, from 9 a.m. to 2 p.m. I'll be handing out FREE sunscreen samples and information on how to protect your skin this summer season and throughout your life!