LiveSmart: Tom's Story – Lifestyle Changes Reap Big Rewards, Better Health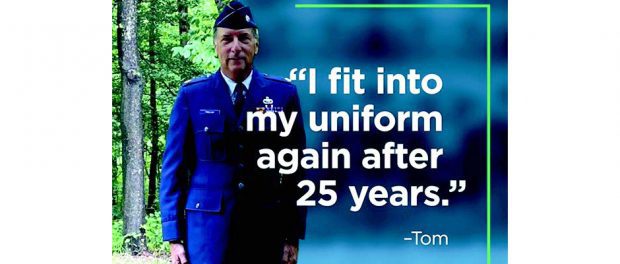 When Tom Triscari visited his doctor in 2019, he didn't know what an A1c (blood sugar) level meant. He soon learned it measures your blood sugar levels over the past three months, and his were higher than normal, meaning he was at risk for developing type 2 diabetes.
Tom says his doctor encouraged him for years to make healthy food choices, but it was hard for him to follow through on the suggestion. He recalls frequent visits to a favorite Capital Region restaurant with his coworkers where "the portions were crazy, and the bread was wonderful."
Though wonderful, these more processed foods — and others high in sugar, fat, and salt — caused some health problems for Tom, including weight gain, high blood sugar, and prediabetes. At the suggestion of his doctor, Tom enrolled in the Centers for Disease Control and Prevention's (CDC) National Diabetes Prevention Program (National DPP) lifestyle change program, supported locally by St. Peter's Health Partners (SPHP).
Want to get started with a healthier lifestyle? SPHP's lifestyle change program can help you:
Set activity goals to get moving. As a retired military servicemember, Tom always enjoyed exercise. Laurie Harris, BS, RN, and a Certified Diabetes Care Education Specialist, was Tom's Lifestyle Coach in SPHP's Diabetes Prevention Program. Laurie helped Tom set reasonable goals and make exercise a priority again. "Because of the program, I have exercised for at least 30 minutes for more than 350 consecutive days. It's crazy!" he says, laughing about how he doesn't want to break his streak.
Find ways to eat healthier. Instead of large portions at restaurants with his coworkers, Tom learned how to make small changes to eat healthier. Fewer processed foods high in sugar, fat, and salt; swapping out sides of bread and potatoes for vegetables or a salad; and being mindful of portion control.
Stay motivated to stick to healthy habits. Tom credits Laurie and his fellow program participants for his success. "Having a weekly meeting is both supportive and holds you accountable," says Tom. "Having to report back not just to Laurie but also to your peers – it's peer pressure in a positive way."
For Tom, the benefits of the lifestyle change program were obvious. He was able to lower his blood sugar levels, lose 35 pounds, and even fit back into his military uniform after 25 years, which, to him, was the most meaningful reward of all.
"It's the complete program that makes the difference," he says. "It's not just about exercise. It's about understanding what's good to eat and all the stuff that comes up with stress and how to take care of your heart."
Celebrate Men's Health Month this June by learning how SPHP's lifestyle change program can support you or your loved one achieve better health. For more information, please visit www.sphp.com/DPP or contact Katie Cameron, MPH, BSW, site coordinator for the Diabetes Prevention Program, at 518-723-0680 or Katie.Cameron@sphp.com.