LiveSmart: Whip Up a Fun, Flavorful 4th!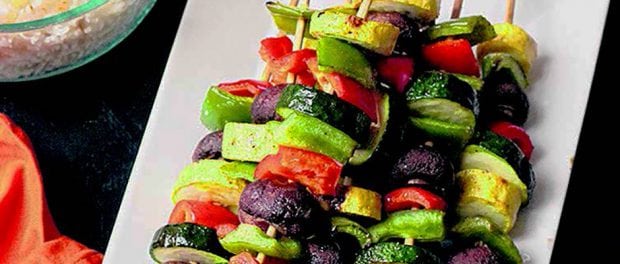 [This piece was written by Jaclyn Brady, MS, RD, CDN, from Clinical Nutrition at St. Peter's Health Partners.]
The 4th of July is right around the corner! Whether you are planning to have a barbeque with friends or a picnic with family, it is the perfect time to include vibrant, healthy meals and snacks that everyone will love.
Grilling is a great cooking method that adds flavor without the added fat. Try out these recipes that will add taste, color, and nutrition to your cookout this 4th of July.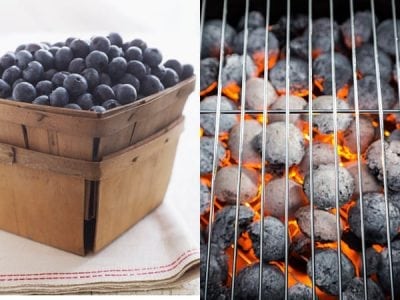 Blueberry Barbecued Chicken
Source: https://www.eatright.org/food/planning-and-prep/recipes/blueberry-barbecued-chicken-recipe
½ cup diced onion
1 Tbsp olive oil
2 cups frozen wild blueberries
¼ cup ketchup
¼ cup balsamic vinegar
¼ cup dark brown sugar
½ tsp salt
6 (6-ounce) boneless, skinless chicken breasts
Prepare and heat grill.
On a stove, heat a medium saucepan to medium-high heat. Add olive oil and sauté onion for 2 minutes, or until translucent. Add blueberries, ketchup, balsamic vinegar, brown sugar and salt. Stir well. Bring to a simmer and cook, stirring occasionally, for 4 minutes.
Use an immersion blender (or transfer to a blender) to blend until smooth. Transfer ½ cup of sauce to one bowl and reserve for serving. Transfer remaining sauce to a second bowl for grilling.
Pound chicken breasts to flatten to ½-inch thickness. Place flattened chicken breasts on prepared grill. Cook for 5 minutes on one side, turn and grill another 5 minutes.
Spread blueberry barbecue sauce evenly over chicken; grill 1 minute.
Turn chicken and spoon larger portion of sauce evenly over other side; grill 1 minute longer. Chicken is cooked when internal temperature reaches 165°F.
Serve with reserved ½ cup blueberry barbecue sauce.
Grilled Vegetable Kabobs
Source: modified from https://lifeasmom.com/grilled-vegetable-kabobs-ultimate-recipe-swap/
1 red bell pepper, cut into uniform pieces
1 green bell pepper, cut into uniform pieces
1 zucchini, sliced into 1/4-inch slices
1 yellow squash, sliced into 1/4-inch slices
1 package brown mushrooms, trimmed
1/4 cup olive oil
Pepper
Thread the vegetables onto skewers. If using wooden skewers, soak for 30 minutes prior to use to prevent burning.
In a small bowl, combine the olive oil and season it to taste with pepper
Brush the vegetable skewers with the seasoned oil.
Grill kabobs over medium heat, about ten to fifteen minutes until tender, turning occasionally and brushing with more oil as needed.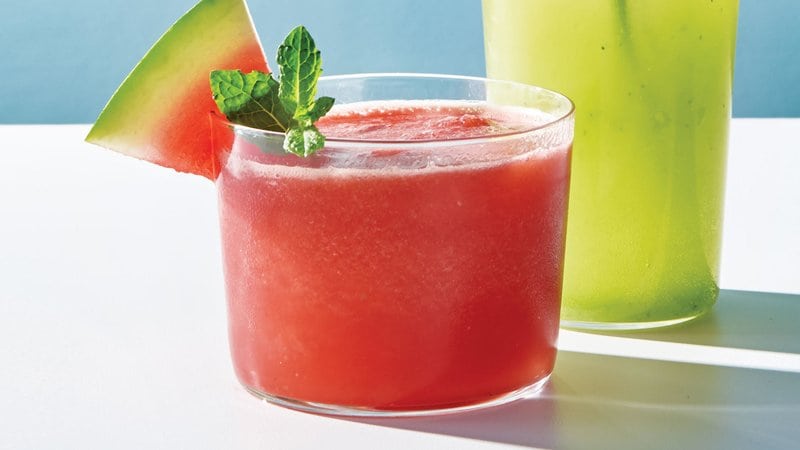 Watermelon Slushie
Source: http://www.health.com/recipes/watermelon-slushie
8 cups 1-inch seedless watermelon cubes, frozen
3 Tbsp fresh lime juice
2 Tbsp honey
1 jalapeño, halved and seeded
Mint sprigs and watermelon wedge, for garnish
Process watermelon, lime juice, honey, and jalapeño in a blender until smooth. Serve over ice.
Garnish with mint sprigs and watermelon wedge.