Colleagues Spread Easter Cheer at Samaritan Hospital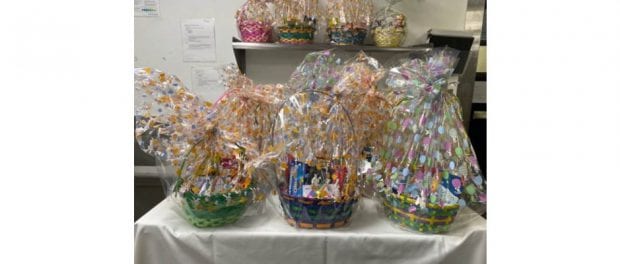 There were some busy bunnies at Samaritan Hospital over the Easter weekend. Colleagues in the food and nutrition department, under the leadership of Director Chet Ostrowski and Retail Manager Lindsey Kral, surprised their colleagues with festive Easter baskets.
In all, 24 baskets were distributed to nursing units throughout the hospital including behavioral health, the emergency department, and Burdett Birth Center. Baskets were also distributed to support services departments including the lab, PACU, pharmacy, radiology, EVS, security, facilities, receiving, and ambulatory.
Each basket was packed with goodies and a card that read, "#SPHP STRONG. Thank you for all you do!"
Ostrowski, in turn, thanked his management team for helping to brighten the holiday for their colleagues saying, "I am so grateful and lucky to have them."