LiveSmart: Easy Holiday Treats Bring Joy, Family Time to the Season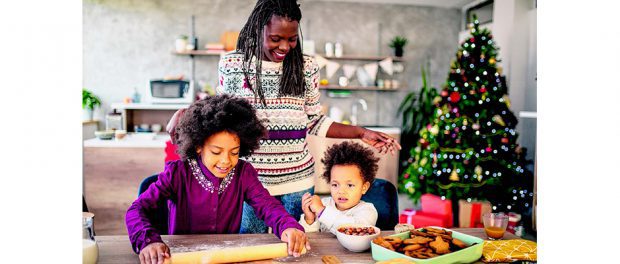 [This story was written by Jamie Epting, MS, RD, CDN, the system director of clinical nutrition for St. Peter's Health Partners.]
2020 has certainly been a stressful year for many people. Now that the holidays are upon us, we have the added stress of online shopping, quarantines, limited family gatherings, schools closing, the arrival of vaccines, and who knows what's next.
When things get so stressful, it's important to remember to take care of ourselves. Eating right, getting enough sleep and limiting stress can be hard. It's a time when we turn to traditions to help sustain us.
Christmas cookies are a big tradition in my family. But, finding the time to make them amidst everything else can feel stressful, too! So, as I was thinking about carrying on the tradition with my family, a recipe my mom makes every year came to mind – chocolate peanut butter squares.
My mom's chocolate peanut butter squares are a taste of the season for family and friends alike. In fact, one friend of the family would be devastated if he didn't receive his annual batch of these delights. This recipe is great is because it reminds me of family and the season, but it is super easy to make and makes a big batch.
They are also the perfect treat to make with children. Have kids (or kids at heart) add Christmas-colored sprinkles or holiday-themed candies to the top of the squares before cooling to give them that extra celebratory feel. Just remember to work these goodies into a well-balanced diet and they will definitely bring some joy to your holidays.
I hope you enjoy this low stress treat from my family to yours – wishing you a safe and happy holiday season!
Peanut Butter Squares 

Ingredients:

3 sticks of butter

2 cups smooth peanut butter

2 cups graham cracker crumbs

1 lb. confectioner sugar

12 oz. package chocolate chips

Directions:

Butter a 9 x 13 pan.
Melt together in large saucepan 2 sticks of butter and 2 cups of smooth peanut butter. Remove from heat.
Add 2 cups of graham cracker crumbs and 1 pound of confectioner sugar (leave out just a bit as sometimes it can be too much – you don't want the mixture too crumbly or too wet.)
Pour mixture into pan and press flat with wax paper.
Melt 1 stick of butter with 12 oz. package of chocolate chips. When smooth, spread over peanut butter mix.
Cool or refrigerate before cutting.