Spectrum: Sending Smiles to Children of Health Care Workers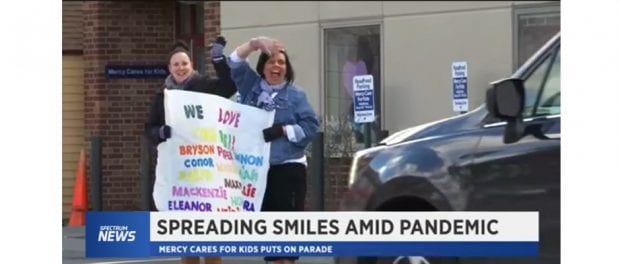 Spectrum News interviewed Theresa Joslin, director of Mercy Cares for Kids, along with teachers Kirsten George and Christina Shatraw, for its story on a social distancing serenade that the school held for students and parents on April 11.
From the report:
"They are definitely noticing that their friends aren't here and there's something going on," said George.

Many of them are children of Saint Peters Hospital workers fighting on the front lines of this pandemic.

"They need us to be here to be able to do their job," said teacher, Christina Shatraw.

"I thank them for all they are doing. And they feel called to do it and I think we're called to take care of the little ones," added George.

Which is the reason why the daycare was started 30 years ago by the sisters of Mercy.
Click here to watch Spectrum's story.