Legislator Visits St. Peter's Hospital to Proclaim March 17 "Colorectal Cancer Awareness Day" In Albany County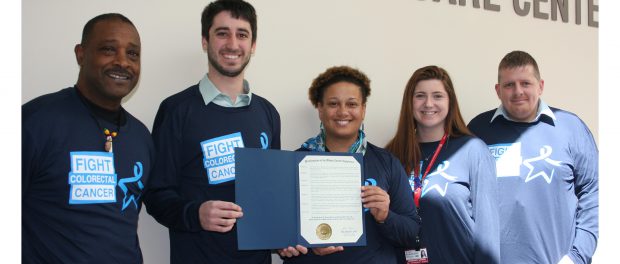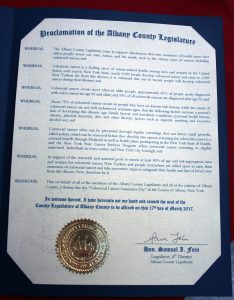 Invited by the Cancer Services Program of Albany and Rensselaer Counties (CSP), Albany County Legislator Samuel Fein visited St. Peter's Hospital to deliver a proclamation declaring Match 17 to be "Colorectal Cancer Awareness Day" in Albany County.
Fein visited the CSP team, who were staffing a table on Main Street and handing out information as part of Colorectal Cancer Awareness Month and CSP's "Main Streets Go Blue" initiative, which aims to fight colorectal cancer by increasing screening rates in New York.
Reading from the proclamation, Fein, legislator for Albany County's 6th District, said:
Whereas, colorectal cancer is a leading cause of cancer-related deaths among men and women in the United States; each year in New York State, nearly 9,000 people develop colorectal cancer and close to 3,000 New Yorkers die from this disease; it is estimated that one in twenty people will develop colorectal cancer during their lifetime; and

Whereas, colorectal cancer occurs most often in older people; approximately 60 percent of people newly-diagnosed with colon cancer are age 65 and older, and 90 percent of all colorectal cancers are diagnosed after age 50; and

Whereas, about 75 percent of colorectal cancer occurs in people who have no known risk factors;

…

Whereas, in support of the statewide and national goals to screen at least 80 percent of age and risk-appropriate men and women for colorectal cancer, New Yorkers and people everywhere are called upon to raise their awareness of colorectal cancer and take preventive steps to safeguard their health and that of loved ones from this disease; Now, therefore be it

Resolved, That on behalf of all the members of the Albany County Legislator and all the citizens of Albany County, I declare this day "Colorectal Cancer Awareness Day" in the County of Albany, New York.
CSP is funded by the New York State Department of Health and the U.S. Centers for Disease Control and Prevention.
The program offers no-cost breast, cervical, and colorectal screenings to uninsured or underinsured residents of Albany and Rensselaer counties. The program targets women ages 40 and above and men ages 50 and above, but is often able to assist younger patients as well.
Click here for more information or call 518-525-8680 to check your eligibility or make an appointment