New Division Chief of Cardiology at St. Peter's Hospital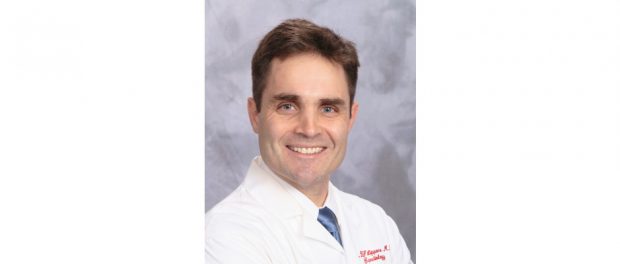 John D. Filippone, M.D., of Albany Associates in Cardiology, has been appointed the Division Chief of Cardiology at St. Peter's Hospital. Dr. Filippone will replace Guillermo Sosa-Suarez, M.D., who is retiring.
A native of the Capital Region, Dr. Filippone completed his undergraduate degree at Williams College in Williamstown, Massachusetts. He obtained his medical degree from the University of Rochester in Rochester, New York, and completed his post-graduate training in Internal Medicine and Cardiology at Strong Memorial Hospital, also in Rochester. He joined Albany Associates in Cardiology and St. Peters Hospital in 2011.
Dr. Filippone has served on various committees throughout his tenure at St. Peter's Hospital, most currently serving as director of the Cardiac Critical Care Unit, Hospital Telemetry and director of the Heart Failure Clinic. Dr. Filippone is a Diplomate of the American Board of Internal Medicine and American College of Cardiology. He is certified in Heart Failure and Transplant by the American Board of Internal Medicine.
"We are pleased to welcome Dr. Filippone to his new role," said Thea Dalfino, M.D., chief medical officer for SPHP Acute Care. "He has been a valued member of our world-class cardiac team at St. Peter's for more than a decade and brings tremendous skill, experience, and dedication to this position."
"Dr. Filippone is an excellent cardiologist," said Javid Saifi, M.D., chief of cardiovascular services at SPHP. "I know the entire team looks forward to working with him and his leadership to further enhance the scope of cardiology services at St. Peter's Hospital."
Dr. Filippone's appointment took effect January 1, 2022.
 St. Peter's Hospital Cardiac and Vascular Center
Since opening in 1985, St. Peter's Cardiac and Vascular Center has been recognized for excellence by health and heart care organizations across the country. Led by a premier team of cardiologists, cardiac surgeons, and vascular specialists, the center is a leader in the Capital Region and one of the most active centers in New York state for the diagnosis, treatment, and rehabilitation of individuals with cardiac and vascular disease.
St. Peter's Hospital is among the top 10 percent of America's Heart Surgery Hospitals (Society of Thoracic Surgeons); a recipient of Women's Choice Award for America's Best Hospitals in Heart Care since 2015; listed among the top six hospitals in the northeastern United States for outcomes from both heart bypass surgery and aortic valve replacement (Consumer Reports); and a designated Heart and Stroke Emergency Center by the New York State Department of Health.
Learn more about cardiac and vascular services at St. Peter's Hospital at: http://www.sphp.com/cardiac-vascular-sph