COVID Patient Discharged After 130 Days in St. Peter's Hospital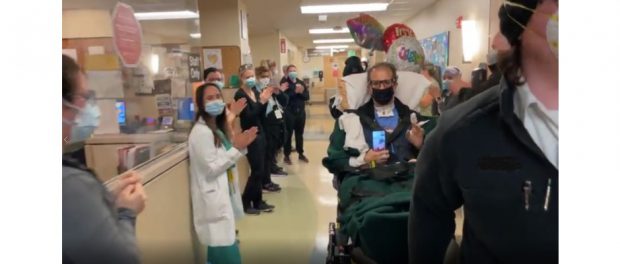 130 days. That's 18 and a half weeks and more than 4 and a half months. No matter how you calculate it, for 47-year-old Tommy Raus, it felt like a lifetime away from his two young kids.
On January 21, 2022, Raus was discharged from St. Peter's Hospital to Sunnyview Rehabilitation Hospital, after spending 130 days as an inpatient battling COVID-19. He was admitted on September 13, 2021, just five days after falling ill.
"My fever just kept coming back," recalled Raus from his hospital bed. "It's been a rollercoaster."
The Rensselaer native spent more than a month in the intensive care unit (ICU), where he was placed on a ventilator after he developed pneumonia in both lungs. He had to be resuscitated twice.
"I died two times, but they kept me alive," said Raus.
At one point, he was told he might need a double lung transplant. He kept fighting, but it wasn't easy. There were times when he came tantalizingly close to being discharged but suffered one setback after another, including two collapsed lungs. He credits his family and the staff at St. Peter's with giving him the strength he needed.
"The nurses and doctors gave me a lot of love, spiritual hope – emotionally, physically, and mentally, too," said Raus. "God has been watching over me and still wants me here."
Two of Raus' therapists at St. Peter's Hospital, who helped him during his 130-day stay, say they never doubted Raus would defy the odds.
"He worked so hard to get where he is now," said Dayle Carhart, PT, physical therapist at St. Peter's Hospital. "We knew he would never quit, and he would make it through. He's definitely a fighter."
Raus was the longest COVID-inpatient stay Carhart and her colleague, Alison Chamberlin, OT, occupational therapist at St. Peter's Hospital, have ever had. They both say it was heart-wrenching watching Raus have so many setbacks, knowing he was desperately missing his kids.
"I remember when he said, 'I just want to feel their touch.' At that time, he hadn't seen them in two months," said Chamberlin.
"We're just really happy for the whole family. It's been quite a journey, not just for him, but for them as well. They've been here through it all for him, so it's just so rewarding to see," said Carhart.
Raus was not vaccinated, a decision he now regrets.
"Having COVID, you don't want to end up in a position like I did," said Raus. "Get the vaccine. I'm sure it would have helped me not be in the situation I was in, being as bad as I was."
As a contractor, Raus didn't have a lot of interaction with other people on the job and says he never felt the need to get vaccinated. That's until he contracted COVID-19. He now plans to get vaccinated as soon as his doctors give him the ok.
For now, Raus is undergoing a rigorous rehabilitation schedule – one that he says he is more than ready for.
"We're going to go up and we're never going to come down."