Recruitment Effort Yields Successful Results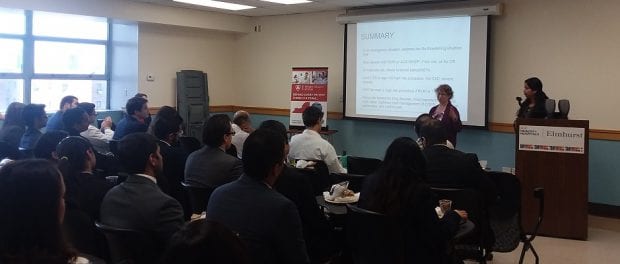 A team of physicians from St. Peter's Hospital recently participated in a recruitment effort at the Icahn School of Medicine at Mount Sinai in Elmhurst, New York, and with successful results.
Chief of hospital medicine, Thea Dalfino, M.D., along with team leader Leah Berkery, M.D., and Afroza Liton, M.D., all hospitalists at St. Peter's Hospital, presented talks at the school's Internal Medicine Residency Program. The trio covered topics of preoperative medicine and careers in hospital medicine. Katie Hart, senior physician recruiter for St. Peter's Health Partners Medical Associates, accompanied the physicians to promote career opportunities in hospital medicine for St. Peter's Health Partners.
As a result of their efforts, four residents signed up to tour St. Peter's Hospital, and observe its hospitalist program.
St. Peters Health Partners (SPHP) is seeking additional hospitalists for its growing programs. There are currently openings at three of SPHP's affiliated member hospitals: St. Peter's Hospital, Albany Memorial Hospital, and Samaritan Hospital.
For more information on the current opportunities, head to http://www.sphp.com/workfiles/Careers/PositionAnnouncementHospitalist013119.pdf.