Samaritan Employee Captures Construction in Time-Lapse Video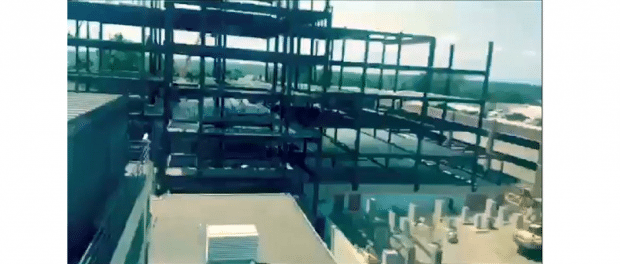 Hugh Wright, RN, a registered nurse at Samaritan Hospital, has captured a unique view of the recently completed Heinrich Medicus Pavilion at Samaritan Hospital. Wright documented the construction process – from the erection of the first steel beams to the installation to the final exterior walls – by taking a photo every day. He compiled the photos into a video, which showcases nearly two years of construction, condensed into just one minute.
"I just love photography. I knew the plan and saw the old building going down, would see intermittent changes every day, and thought it would be interesting to see it sped up a bit and see how it all looked when the construction was finally done," Wright said.
Wright came up with the idea while walking into work one early spring morning in 2017. He started in the garage, snapping the same picture from the same spot every day, even in the bitter cold. For a different angle, he stopped by the 4th floor window – again, taking a picture from that same spot every day.
To capture the daily images, Wright used his smartphone, and a stop-motion app to edit them. Not only did he get a kick out of seeing the final video come together, his 5-year-old son did, too.
"He loves it," said Wright, who often brought his son to watch the construction. "He loves building things and seeing all of the construction vehicles at work, so it was a thrill for him. He was quite impressed."
Wright is equally impressed with the construction and renovations, too.
"It's great for the patients," he said. "The private rooms are great. Doctors have more room, and it's just really wonderful to be a part of."
Wright has worked in the Clinical Documentation Improvement Department at Samaritan Hospital for the past three years, so you could say he has a knack for documenting things. While he is proud of his creation, he remains humble.
"It's a little jumpy, but not too bad for a first try I think," he said.
To see Hugh Wright's time-lapse video, click HERE.