New Endoscopy Suite Opens at Samaritan Hospital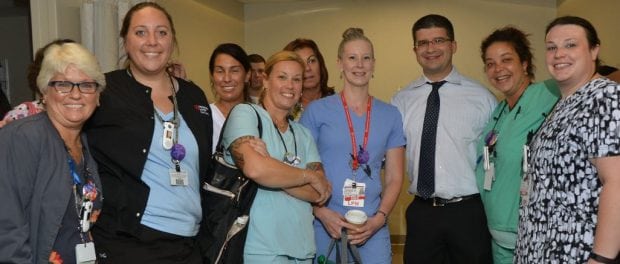 St. Peter's Health Partners (SPHP) held a dedication and open house on September 6 to celebrate the new endoscopy suite at Samaritan Hospital.
For patients, the new state-of-the-art suite features larger and more private preparatory and recovery bays, which were designed to provide a more comfortable and healing experience. For physicians, nurses, and technicians, the new unit's advanced equipment and thoughtful layout offer an ideal setting in which to provide the highest quality and most compassionate patient-centered care.
The new suite is set to begin serving patients today.
"Samaritan Hospital is the cornerstone of our mission to be a compassionate and transforming healing presence within the Troy and Rensselaer County communities," said Mike Finegan, president of acute care at SPHP. "This new endoscopy suite, and all of the colleagues and providers who practice here, are truly brining to life our vision of 'Healthy Future, Healthy Troy.'"
The new endoscopy suite was developed with input and feedback from the providers, nurses, and technicians who work and perform procedures there.
In total, the new suite encompasses 14,000 square feet, more than double the previous location's 5,763 square feet. The new suite features 18 private preparatory and recovery bays, including one isolation bay, all with walls on three sides for privacy.
The new suite has seven procedure rooms, including two large special procedure rooms, totaling 11,530 square feet. The previous location had six procedure rooms. The layout of the new suite is optimized to better facilitate the arrival and departure of patients.
"This is such a great opportunity for us, and we are so pleased to be able to care for patients in this new unit," said Brenda Williams, RN, director of surgical services at Samaritan, St. Mary's, and Albany Memorial hospitals.
The endoscopy suite is located on the first floor of Samaritan Hospital's new five-story Heinrich Medicus Pavilion, the centerpiece of SPHP's $99 million Troy Master Facilities Plan (MFP). A strategic redevelopment project, the MFP was designed to transform health care in Troy, Rensselaer County, and the surrounding communities. The comprehensive plan includes the construction, renovation, and modernization of facilities in Troy, and the transition of Samaritan to the sole provider of inpatient acute care hospital services in Troy, as well as the transition of St. Mary's to an outpatient campus.
Many of the plan's major components have been completed, including: a new 570-car parking garage at the Samaritan campus; the relocation and opening of the Samaritan Hospital School of Nursing at St. Mary's; the new St. Mary's Hospital Hildegard Medicus Cancer Center; the new Women's Imaging Center at St. Mary's Hospital; and the new Samaritan Hospital Emergency Department, Intensive Care Unit, Progressive Care Unit, and fourth and fifth floor medical/surgical units.
The Heinrich Medicus Pavilion, for which SPHP broke ground in November 2015, is expected to be completed later this month.