SPHP Nurses Recognized on National Nurses Day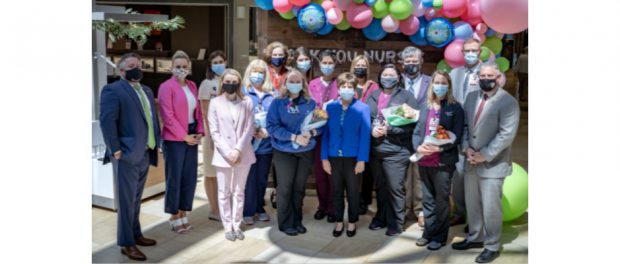 Several nurses from St. Peter's Health Partners were among those honored by state and local leaders during an event held on National Nurses Day, May 6. The event was hosted by Colonie Center in recognition of the hard work of area nurses, especially over the past year during the pandemic.
Attendees included Albany County Executive Daniel P. McCoy, Senator Neil Breslin, Assemblywoman Patricia Fahy, Assemblymember John T. McDonald III, Colonie Town Supervisor Paula Mahan, the chief nursing officers from St. Peter's Health Partners and Albany Medical Center, and several local nurses.
The County Executive delivered a proclamation in recognition of their dedication to their patients and to our community.
"In Albany County hospitals alone, there are over 6,000 nurses who work tirelessly to help the sick and the injured, and this doesn't account for the others serving at physicians' offices, schools, nursing homes and all across our community. They have volunteered as part of our Medical Reserve Corps," said Albany County Executive Daniel P. McCoy. "We owe each nurse a debt of gratitude every year and every day, but they have gone above and beyond these last 13 months helping us respond to COVID. They put their health and their lives on the line in the face of a highly infectious disease, which makes this year's National Nurses Day that much more important."
"While the arrival of vaccines in the battle against COVID has provided a sense of hope that soon, this pandemic will be behind us, the 2,500 nurses of St. Peter's Health Partners have remained dedicated to caring for our community," said Christopher Jordan, MHA, RN, NEA-BC, CPHQ, Chief Nursing Officer, Acute Care, Vice President Patient Care Services, St. Peter's Health Partners. "From our hospitals and urgent care facilities, to our nursing homes and rehabilitation centers, to our primary care offices and surgical suites – our nurses have demonstrated a dedication and commitment to our patients, our residents, their families, and the community. They inspire me every day and I am honored to be here, recognizing them on National Nurses Day."
To highlight the hardworking and dedicated nurses who help keep our community safe and healthy, Colonie Center is encouraging community members to nominate a nurse in their life to be entered for a chance to win various shopping sprees at participating retailers, H&M, J.Crew Factory, iSmile Studios, and Sephora. Five winners will be randomly selected on Tuesday, June 1, 2021.
"Our area nurses have been putting their lives on the line to ensure the health and safety of everyone," said Marissa McCarren, Marketing and Business Development Manager at Colonie Center. "It will never be enough to simply say 'thank you,' but we wanted to recognize the caregivers who have meant so much to so many people through our nomination event. We want to highlight the hard work that they do every day––not just during a pandemic."
To learn more about the nomination process, please visit https://shopatcoloniecenter.com/celebrate-nurses/.