Tree Honoring Frontline Workers Planted at St. Peter's Hospital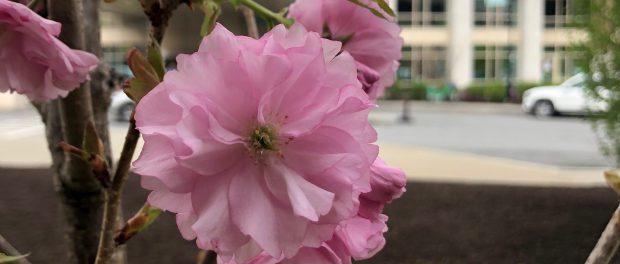 The pink blossoms of a kwanzan cherry tree will forever serve as a tribute to the lives lost during the COVID-19 pandemic and to the dedicated frontline workers who continue to tirelessly serve our patients, our community, and one another.
The tree, planted on May 3 outside St. Peter's Hospital, is one of two purchased by the St. Peter's Health Partners Wellness Committee to honor the struggles our colleagues and our community have endured throughout the past year. The other tree sits atop the hill overlooking the Samaritan Hospital – St. Mary's Campus.
Both trees reflect SPHP's core values of Justice, which includes fostering right relationships to promote the common good including sustainability of the Earth, and Stewardship, wherein we honor our heritage and hold ourselves accountable for human and natural resources entrusted in our care.
The inscription on the plaque marking both trees reads: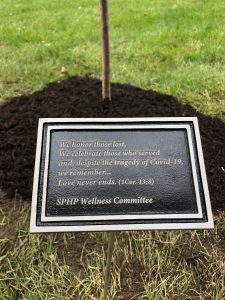 We honor those lost,
We celebrate those who served
and, despite the tragedy of COVID-19,
we remember…
Love never ends. (1 Cor. 13:8)
The tree at St. Peter's Hospital is located in front of  the outpatient parking garage, across from the hospital's main entrance.