St. Peter's Hospital Holds Honor Walk for Former Nurse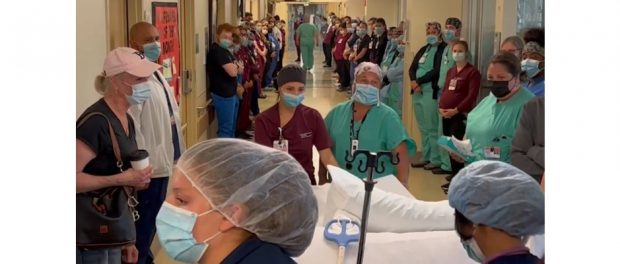 On Aug. 17, 2022, staff members from St. Peter's Hospital silently lined the halls in support of one of their colleagues as she said goodbye to her mother, 62-year-old Lisa Davis, a former nurse in the intensive care unit (ICU) at Samaritan Hospital.
Called an Honor Walk, the gesture is held in recognition of an organ donor. For the donor's family, the walk from the ICU to the Operating Room, is often referred to as "the loneliest walk." By lining the hallways in tribute, staff were able to support the family as they said their last goodbyes, as well as support Davis' heroic last act in saving someone else's life.
Two kidneys were donated as the result of Davis' generous gift.
The Honor Walk was coordinated with help from the Center for Donation and Transplant New York – Vermont (CDT). The CDT was established in 1972 and is one of 58 federally designated non-profit organ procurement organizations in the United States. It serves a population of 2.7 million people across 30 counties in New York, Vermont, as well as in Berkshire County, Massachusetts. CDT works in partnership with 43 hospitals, including St. Peter's and Samaritan hospitals.
All of us at St. Peter's Health Partners would like to extend our sincere condolences to Davis' family including her daughter, Courtney Chaires, a technician in the cardiac lab at St. Peter's Hospital. May you find comfort in your mother's caring last wishes — a natural extension of her career as a health care worker — and may her light continue to shine on in your minds and hearts.
For more information on organ donation: https://www.cdtny.org/donation/register/