St. Peter's Hospital NICU Celebrates Three Years Without Central Line Infection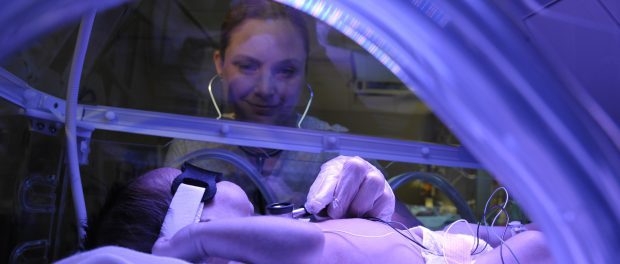 The neonatal intensive care unit (NICU) at St. Peter's Hospital this month celebrated an important milestone, surpassing three years without a central line–associated bloodstream infection (CLABSI) in a patient.
CLABSIs are the most common type of hospital-acquired infection among infants in NICUs across the United States, according to the American Academy of Pediatrics. Such infections can become life-threatening or have a lasting negative effect on a newborn's long-term development.
"Our NICU is committed to a culture of safety, for the protection and care of our smallest and most vulnerable patients," said Kassandra Foley, MT, CIC, manager of the Infection Prevention and Control Program at St. Peter's Hospital. "Their ability to sustain the distinction of being CLABSI-free for three years is the result of hard work, dedication, and adherence to evidence-based best practices.  We are so proud of the work they do, and we congratulate them on this wonderful achievement."
The multidisciplinary team at the St. Peter's Hospital NICU has been making a concerted effort to prevent CLABSIs, following recommendations from the voluntary New York State Perinatal Quality Collaborative's CLABSI Reduction Project. Two tools the unit uses to accomplish this goal are standardized central line care bundles and central line maintenance checklists.
This strategy focuses on minimizing the risk of infection by preventing contamination of the central line, which is a catheter or tube placed in a patient's blood vessel, ending at or near the heart. A central line is used to draw blood or administer fluids or medications. The care bundles and checklists aim to decrease the amount of time a central line is used, and include protocols for real-time infection surveillance and communication among nurses, physicians, and caregivers.
The St. Peter's Hospital NICU, a Level III facility, is staffed 24 hours a day with board-certified neonatologists, neonatal nurse practitioners, and registered nurses certified in neonatal nursing.
To learn more about the St. Peter's Hospital NICU, click here.