LiveSmart: Breastfeeding Benefits Baby and Mom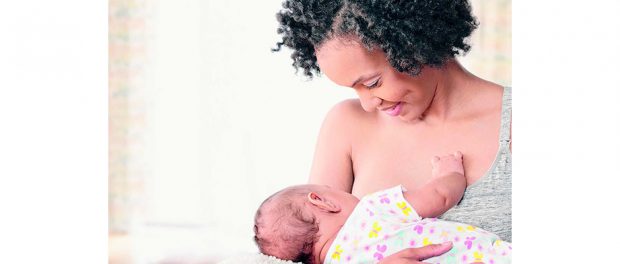 [This story was written by Sandra Michael, BSN, SNT, MST, CLC, CBC, RN-BC, director for Women's & Children's Services, Acute Care, St. Peter's Health Partners.]
Countless studies over the years have shown the many health benefits of breast milk for infants, as well as the profound impact it has in contributing to a lifetime of good health for the child. But, what many may not know, the act of breastfeeding has tangible benefits for mom, as well.
For the nursing mother, breastfeeding eliminates the need to buy and prepare formula or sterilize bottles. The process also provides mothers with a special calm, quiet time to relax and bond with their baby – and provide some needed rest.
Numerous studies have shown measurable health benefits for nursing moms. Breast-feeding promotes more rapid weight loss and recovery from childbirth. In turn, breastfeeding moms are at reduced risk of cardiovascular disease and obesity.
Mothers who breastfeed also decrease their risks for breast, uterine, and ovarian cancers. Current research also shows moms who breastfeed have a reduced instance of type-2 diabetes and osteoporosis.
The American Academy of Pediatrics and The World Health Organization recommend that mothers breastfeed exclusively for the first six months of life, without supplements. At six months, other foods should complement breastfeeding. Breastfeeding should continue for 12 months, or longer if the mother or child desires.
St. Peter's Health Partners has one of the Capital Region's most comprehensive lactation and childbirth programs. We provide access to a vast network of board-certified obstetricians, maternal-fetal medicine specialists and midwives throughout the Capital Region.
At St. Peter's Hospital Women's and Children's Center in Albany, and Burdett Birth Center in Troy, our obstetricians and midwives are highly trained and have many years of experience. We have the necessary tools and skills to promote a safe birth that is tailored to your needs.
Our lactation services include a breastfeeding preparation class, as well as continuing support and care of new breastfeeding mothers after they and their newborn have been discharged. This includes over-the-phone guidance and referrals to our Baby Cafés in Albany, Schenectady and Troy.
For women and newborns that experience complications, our specialists are prepared to handle any challenges that arise. Our network is home to a maternal-fetal medicine department for parents and babies who are at high risk for complications. And our NICU cares for premature and critically ill newborns, with neonatologists, neonatal nurses, respiratory therapists and others working 24/7 to help your baby thrive and go home as soon as possible.
St. Peter's Hospital was recently recognized as a Best Hospital for Maternity Care (Uncomplicated Pregnancy) by U.S. News & World Report for 2021-2022. St. Peter's is the only hospital in the Capital Region to receive the designation. Aside from the U.S. News distinction, St. Peter's Hospital was the first in the area to receive UNICEF's Baby-Friendly designation for its focus on bonding and breastfeeding.
For information on delivering a baby with St. Peter's Health Partners, as well as information on breastfeeding, infant care, or parenting classes, please call 518-525-1388 or visit www.sphp.com/find-a-service-or-specialty/maternity/.
From all of us here, best wishes to all the moms for a very happy Mother's Day!