Sunnyview Staff Members Publish Study in Educational Journal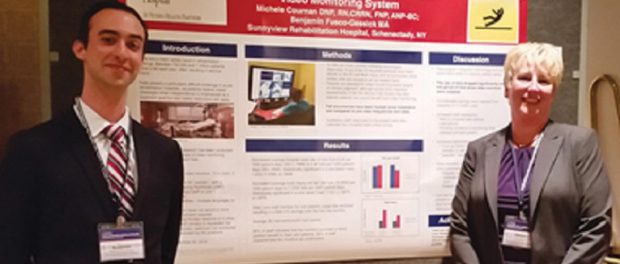 Congratulations to Michele Cournan, DNP, RN, CRRN, ANP-BC, FNP, Benjamin Fusco-Gessick, MA, and Laura Wright, RN, CRRN. These colleagues at Sunnyview Rehabilitation Hospital in Schenectady collaborated on a study published in the March/April 2018 issue of Rehabilitation Nursing Journal.
Titled "Improving Patient Safety Through Video Monitoring," the article explores the problem of patient falls in rehabilitation settings. To address the issue, the Sunnyview team implemented a video monitoring system at the 115-bed facility, initially focusing primarily on the brain injury unit.
The system featured both in-room and portable units. The portable cameras were equipped with speakers and able to monitor patients in any room within the facility. A trained technician uses the video feed and two-way audio communication to intervene when observing potentially dangerous behaviors.
After a year of operation, the Sunnyview team found the video monitoring system was effective at significantly reducing falls. In the year preceding installation of the system, the fall rate at Sunnyview was 6.47 per 1000 patient days, in the year following the camera instillation, the rate decreased to 5.67 and the rate has continued to decrease to 3.64 in 2017.
This examination of fall reduction intervention highlights the dedication of the staff at Sunnyview not only to implementing cutting-edge technology, but also to providing greater safety for their patients and peace of mind for patients' families.
"This was a true team effort," said Cournan.
You can read the full article in the Rehabilitation Nursing Journal.