The Glen at Hiland Meadows Announces Expansion, New Construction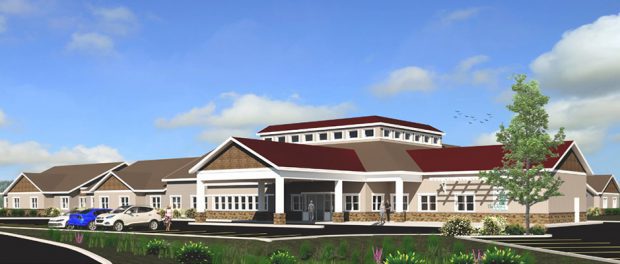 The Glen at Hiland Meadows, the north country's premier senior living community, has announced plans to expand its Independent Living residence located on Longview Drive, as well as build a Wellness Center, and a separate Memory Care Center on campus.
Sponsored by two of the region's most trusted names in senior care and services — The Conkling Center (formerly The Glens Falls Home) and The Eddy, a member of St. Peter's Health Partners. The expansion would add a 41,000-square-foot addition featuring 28 Independent Living apartments, a 4,700-square-foot Wellness Center with a pool for all residents, and an additional 25,000-square-foot freestanding Memory Care Center with 30 units for individuals with early to mid-stage dementia or other memory impairment.
"We recognize the changing needs of older citizens in the north country area, and we wanted to respond and meet to those growing needs," says Andrea Hebert, vice president of Eddy Senior Living and executive director of The Glen at Hiland Meadows. "Additionally, we have learned that there is a vital and immediate need for Memory Care services in our community due to a significant scarcity of memory care beds. Our mission is to meet this significant need by constructing a new, free-standing specialty center for those who need memory care."
"This is an exciting time to be involved with The Glen at Hiland Meadows," says Mary Farr, president of the Board of Directors. "The expansion of Independent Living and the addition of a Memory Care Center on campus will not only enable us to offer a continuum of care for our residents as their health needs change, but will also allow us to provide these vital services to the greater north country community as they age."
Located on 45 spectacular acres in Queensbury, NY, The Glen currently offers unparalleled senior living, with 74 independent one- and two-bedroom apartments, 18 independent two-bedroom cottages, and 43 Enhanced Assisted Living apartments at The Terrace at The Glen.
The Glen has already received approval from the town for the project, which is estimated to cost $27.2 million. Construction for the expansion is planned to start this spring and complete in spring/summer 2022.
Sano-Rubin Construction Services of Albany is the developer, with Richard E. Jones Associates of Queensbury as the architect for the independent living and wellness center expansions. Architecture+ of Troy is the architect for the new memory care building.
The Eddy currently offers two Memory Care Centers in the region which are nationally recognized models, having achieved a level of care and programing not exhibited elsewhere – at Marjorie Doyle Rockwell Center in Latham, and at Eddy Hawthorne Ridge in East Greenbush.
About The Eddy
The Glen at Hiland Meadows is a part of The Eddy Senior Living network committed to meeting the forever changing needs of our seniors and their families. Eddy Senior Living comprises of Independent and Enriched Housing/Assisted Living communities serving six locations throughout Upstate New York in Troy, Cohoes, Slingerlands, Niskayuna, Queensbury and East Greenbush. The Eddy began in 1928 as a 19-bed nursing home and has grown into a comprehensive continuum of healthcare, supportive housing, and community services that reaches 22 counties and serves more than 40,000 people yearly. The Eddy's services help maximize quality of life, dignity and independence. The Eddy is a member of St. Peter's Health Partners – a not-for-profit integrated health care network with more than 12,000 employees in more than 170 locations. For more information, please visit www.eddyseniorliving.com/.
About The Conkling Center
The Conkling Center (formerly The Glens Falls Home, Inc.) was incorporated in 1898 to provide residential services for aging women and operated a home for aged women on Warren Street in the City of Glens Falls for more than 100 years. The organization formed a partnership with The Eddy to develop and build The Glen at Hiland Meadows, which opened in 2001. The Glen at Hiland Meadows Board of Directors includes both The Eddy and Conkling Center members, retaining a sense of history and legacy for senior care in the area. Today, The Conkling Center offers senior directed programs and services for community members 55+, including the On-The-Go Transportation Program, Ice Melt Program, and a variety of Community Awareness, Health and Safety, Legal, Educational and Inter-Generational programs. For more information, please visit www.theconklingcenter.org.