Sunnyview to Hold "Art for the View 2016" Featuring Artists With Disabilities From Around the World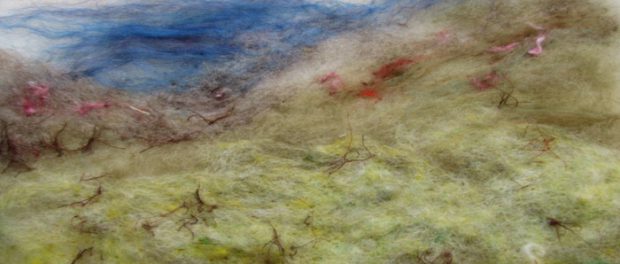 Sunnyview Rehabilitation Hospital will hold "Art for the View," a one-of-a-kind international exhibition featuring artworks by individuals from around the world who live with physical or mental disabilities. An opening cocktail reception will be held Friday, Oct. 21, 6 – 9 p.m., at the Fenimore Gallery at Proctors, State St., Schenectady.
This year's exhibition will feature 55 unique works created by 30 artists, including five artists from the Capital Region area. More than 115 entries were submitted for consideration worldwide, including from as far as Denmark, Canada and numerous states around the country. The works include watercolors, oil paintings, photographs, sculptures, and felting.
Sunnyview first launched an exhibition for artists with disabilities in 1999 as a way to celebrate the creativity and vision of individuals who live with disabilities. In 2011, the event was expanded to include works by artists worldwide.
Today, the international event inspires, encourages, and celebrates artists from around the world who were born with, or who have developed physical and cognitive disabilities, such as brain and spinal cord injuries, autism, cerebral palsy, multiple sclerosis, amputation, or blindness.
Guests of the opening reception will enjoy a private preview showing of the winning collection. The event will feature live musical entertainment, and an art sale and auction. Heavy hors d'oeuvres, cocktails and desserts will be served, along with wine tastings by Capoccia Wine. Tickets are $100 for adults, and $75 for young professionals (under age 35). Proceeds will benefit life-changing programs for patients at Sunnyview.
After the opening reception, the exhibition will be on display for public viewing at Sunnyview, free of charge, during business hours from October 31 through December 12, at 1270 Belmont Ave., Schenectady.
A jury of three art professionals in the Capital Region judged this year's entries: Sandra Wilmer, artist in residence and senior lecturer of Printmaking & Design at Union College; Laini Nemett, professor of drawing and painting at Union College; and Connie Todt, director of studio art and lead recreational therapist at Sunnyview Rehabilitation Hospital.
Artwork chosen for exhibition will be made available for sale. Patrons will have the opportunity to purchase the pieces to own, or to donate to Sunnyview's Viewpoint Gallery – home to one of the largest art collections featuring more than 100 works on permanent display throughout the hospital by artists from around the world with disabilities.
For more information or to attend the gala opening reception, please contact the Sunnyview Rehabilitation Hospital Foundation, 518-382-4586.