The Eddy to Support Walk to End Alzheimer's on September 22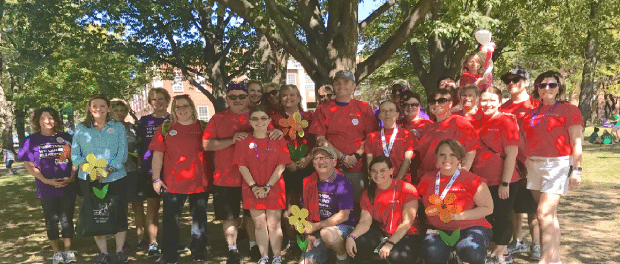 The Eddy, an affiliate of St. Peter's Health Partners, will once again sponsor the Alzheimer's Association of Northeastern NY's annual Walk to End Alzheimer's.
The Eddy serves as a community partner with the Alzheimer's Association of Northeastern NY and the organizations work together year-round to provide a wide range of services to those with Alzheimer's and other dementias, as well as their families and caregivers. The Walk to End Alzheimer's is the organizations' largest fundraiser – In 2015, more than 600 Walks across the country raised more than $75 million to support the organization.
The two mile walk will take place:
Saturday, September 22
Siena College Campus
515 Loudon Road, Loudonville
Registration at 10 am
Ceremony at 11 am
Walk at 11:45 am
The Eddy is proud to sponsor The Promise Garden for the fifth year. The Promise Garden is an important part of the Walk, both in the opening ceremony and the Walk itself. Walkers are given a flower that indicates their connection to Alzheimer's disease – whether they have Alzheimer's or dementia, have lost a loved one to the disease, are a caregiver for someone with the disease, or support the goal of a world without Alzheimer's. The Promise Garden allows participants to raise flowers representing a promise to remember, honor, care, and fight for those living with Alzheimer's disease and other dementia.
Team Eddy aims to raise $10,000 to support Alzheimer's research, care, and education. Help us reach that goal by joining in the walk, or donating. Walkers can register online. Donations for Team Eddy can also be made online.  Please contact Jess Flynn, community liaison with Eddy DayBreak at Jessica.Flynn@sphp.com or (518) 729-6523 with any questions.
The Eddy, an affiliate of St. Peter's Health Partners, is a comprehensive continuum of health care, supportive housing, and community services that reaches 22 counties and serves more than 40,000 people yearly. Eddy Alzheimer's Services offers a comprehensive range of memory care services, including care management, education, and outreach support, as well as compassionate care for individuals living and coping with memory loss.