LiveSmart: Getting Slower? Keep on Moving!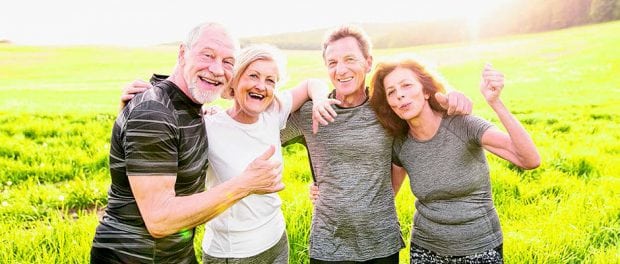 [This piece was written by Nancy J. Sterantino, PT, MHA, supervisor of St. Peter's Physical Therapy & Fitness.]
If you can't move as fast as you once did, join the crowd. Without training, muscles decline in mass and strength about one percent a year starting at age 45 and accelerating after 60. Eventually, a frail senior may have trouble lifting a bag of groceries or getting off the couch.
A study in the Journal of the American College of Cardiology found that sedentary people in their 60s and 70s needed 20 percent more oxygen to walk at the same speed as people in their 20s and 30s. However, with six months of regular exercise – three, 90-minute sessions a week – these seniors boosted their exercise efficiency by 30 percent while the younger subjects improved by only two percent.
Another study published in the Annals of Internal Medicine found that of 1,740 people 65 and older, those who exercised at least three times a week (15 or more minutes of walking, bicycling, water aerobics, stretching, etc.) had a 30 to 40 percent reduced risk of developing Alzheimer's disease or another dementia.
In men, regular workouts can boost testosterone levels. Twenty percent of men over 60, and half of men over 80, have decreasing levels of testosterone which can lead to decreased muscle mass and bone density, increased abdominal fat, loss of strength and power, impaired sexual function, depressed mood and decreased cognitive function.
Exercise also can help correct natural declines in balance, agility and body awareness. Strengthening the core muscles – which include the trunk, abdomen, buttocks and pelvis – is critical to preventing aches and pains in the back, legs and neck, and may make you less vulnerable to falls.
After age 60, stretching becomes particularly important to maintain flexible muscles and joints. Movements should be slow and gentle. All seniors, especially those with arthritis, should get instruction on proper stretching/exercise techniques from a doctor or physical therapist, and make sure any new type of exercise is safe and appropriate.
No matter how long you live, you're far more likely to remain independent if you keep yourself fit, strong and flexible.
St. Peter's Physical Therapy & Fitness offers a full range of outpatient physical and occupational therapy services, at 1240 New Scotland Road in Slingerlands. St. Peter's Health Partners Patient Therapies has a variety of outpatient occupational therapists at locations throughout the Capital District, accepting all insurances and providing quality one-on-one treatment. For information, please call 518-475-1818.