Altamont Enterprise: Local Hospitals Increase Capacity to Prepare for COVID-19 Patient Surge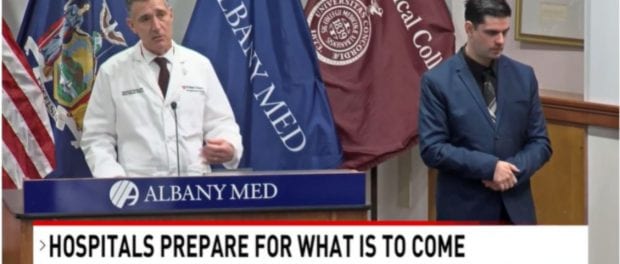 The Altamont Enterprise reported on preparations being made by Capital Region hospitals as COVID-19 continues to spread in the area. Clinical leaders from ten regional hospitals, including St. Peter's Health Partners, detailed how their facilities plan to increase capacity by at least 50 percent.
From the article:
"There are still people that feel we are overreacting," said Steven Hanks, chief clinical officer of St. Peter's Health Partners. "We are in support of the governor's increase of at least 50 percent."

Across its system, St. Peter's has 702 acute-care beds and will be adding 663 beds using extant facilities. St. Peter's will increase its ICU beds from 48 now to 150, Hanks said.

Added staff will come from retired health-care workers or from outside New York State, Hanks said, noting that St. Peter's is part of Trinity Health, which has 94 hospitals across 22 states.

"It's not histrionics, not panic … In the last seven days, New York cases were up by a factor of 15," Hanks said. While elective surgeries have been postponed, Hanks said, all essential services will be provided.
Click here to read the full article.