Daily Gazette: Hospital Billboards Tout Speedy Service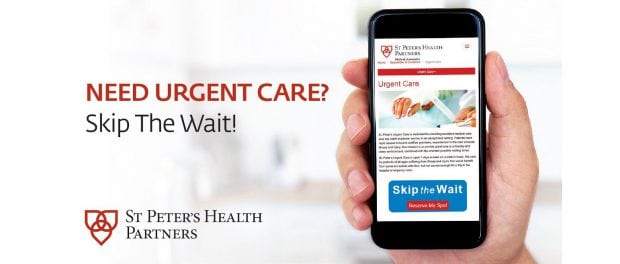 The Daily Gazette published an article mentioning Skip the Wait, a new tool to check wait times at St. Peter's Health Partners five Urgent Care locations. Pam Williams, who leads St. Peter's Health Partners Medical Associates, explains how patients may use Skip the Wait to pick a time and location convenient to them.
From the story:
St. Peter's centers, affiliated with the regional hospital network, offer illness and injury care seven days a week on a walk-in basis.

With "Skip the Wait," real-time estimates of the next available appointment are provided for each of the centers. Prospective patients can choose the time and location that fits their needs, and book the appointment online, shortening their time in the waiting room.

People "hate the idea of walk-in and not knowing how long the wait is," says Pam Williams, CEO of St. Peter's Health Partners Medical Associates, the affiliated multi-specialty physician group.

The initiative first surfaced 18 months ago, but has been actively promoted for the last five or six months. Williams said about 20 percent of urgent-care patients now use the option, indicating it is "pretty popular."
Click here to see the entire story.
Click here to learn more about Skip the Wait.