Daily Gazette: New Baby Cafe in Schenectady, St. Peter's Hospital Designated Baby-Friendly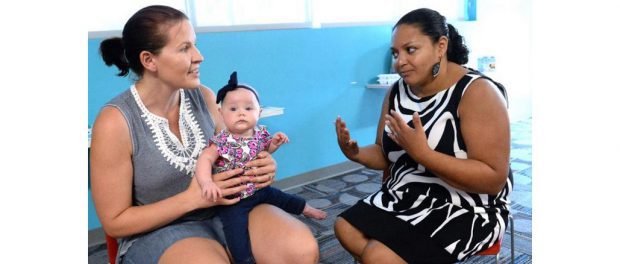 The Daily Gazette published a column about community and health care resources to help new mothers with nursing. The article discusses the new SPHP-sponsored Baby Café in Schenectady, as well as St. Peter's Hospital's first-in-the-region achievement of earning the international "Baby-Friendly" designation.
From the story:
Earlier this year I visited two Capital Region hospitals that have worked hard to expand their resources for nursing mothers: Bellevue Woman's Center in Niskayuna and St. Peter's Hospital in Albany.

St. Peter's is the first hospital in the area to be designated a Baby-Friendly hospital by an organization called Baby-Friendly USA, and Bellevue is working to attain the Baby-Friendly designation.

…

The Baby-Friendly Hospital Initiative was launched in 1991 by the World Health Organization and United Nations Children's Fund, with the goal of increasing breastfeeding rates and encouraging mother-child bonding.

Hospitals with the Baby-Friendly designation must meet a list of criteria that includes keeping mothers and babies in the room together, a practice known as "rooming in," rather than sending babies off to a nursery, whenever possible, making sure mother and child have skin-to-skin care immediately after birth, and promoting breastfeeding.

Skin-to-skin care entails placing the baby on the mother's chest after birth; the idea is that this contact warms the baby, helps regulate the baby's temperature, reduces stress and facilitates breastfeeding.

"There's been a cultural shift," Sandra Michael, manager of community integration and lactation services for the Women's and Children's Services division at St. Peter's Hospital, explained to me. "In the old days, babies were taken and placed in a warmer. A lot of times they were whisked away. … Now we give the baby to the mom."

Under the new system, weighing the baby, bathing the baby, conducting the newborn screening — all of these things are now done at the mother's bedside.
Read the full story here.