Healthline: Regeneron Antibody Cocktail May Reduce COVID-19 Hospitalization by 70%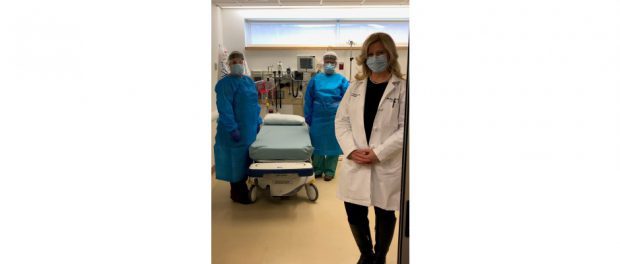 Melissa Fiorini, M.D., emergency medicine physician and director of St. Peter's Health Partners' COVID-19 Monoclonal Antibody Infusion Center, appeared in an article on the health and wellness website, Healthline.
Dr. Fiorini discussed the efficacy of Regeneron's monoclonal antibody treatment, which is a cocktail of the two drugs casirivimab and imdevimab. Given together, new data suggests the therapy can reduce hospitalization from COVID-19 by as much as 70 percent.
From the article:
By fighting the virus's ability to bind to our cells, the antibody treatment can improve COVID-19 symptoms and prevent the disease from worsening.

The treatment works best when given earlier in the course of disease, ideally within 10 days after symptoms develop.

"The idea is to stop the virus before it even becomes a problem," said Dr. Melissa Fiorini, an emergency medicine physician at St. Peter's Hospital in New York.

The drug is intended for people who are at risk for hospitalization or death.

At the first sight of symptoms, Fiorini said people with high risk for severe COVID-19 should get tested and treated as soon as possible.
Click here to read the full article.