KnowWhereYourFoodComesFrom.com: Let Food Be Thy Medicine — Hospitals Sponsoring Farmers Markets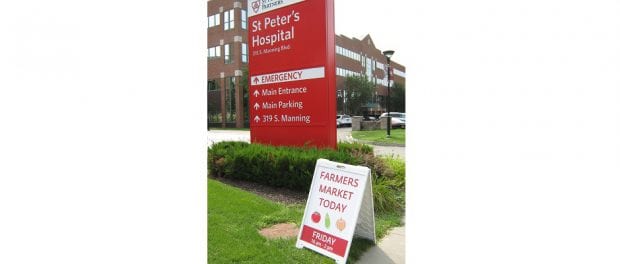 The new series of farmers markets at St. Peter's Health Partners are featured in an article on the website, knowwhereyourfoodcomesfrom.com. The article discusses the rising obesity epidemic in America, the importance of eating real, not processed, food, and how some hospitals are addressing this by placing greater emphasis on community health and well-being.
From the article:
This spirit of integrated medical care has spread to upstate New York's Capital Region. St. Peter's Health Partners are now hosting farmers markets on Fridays at Samaritan Hospital in Troy (Rensselaer County), NY and at St. Peter's Hospital in Albany, NY on a rotating basis so that each hospital will be the site for a farmers market on a biweekly basis in the growing season.

Of special note, St. Peter's Health Partners has established a relationship with the Patroon Land Farm in Knox (Albany County), New York to operate the farmers markets outside the two hospitals in the upstate Capital Region.
Click here to read the full story.