Spectrum News: Keeping True to Your Resolution to Stop Smoking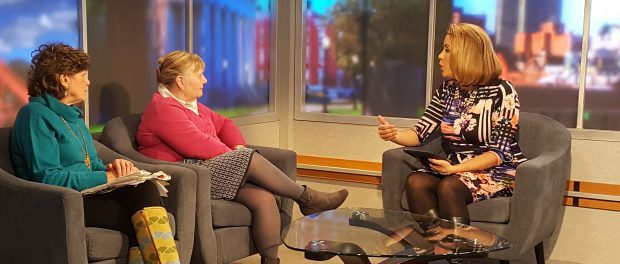 Anne Lawton, RN, community liaison for St. Peter's Hospital Cancer Care Center, appeared on Spectrum News LIVE at Noon this week to talk about the health benefits of stopping smoking, and how a structured program like The Butt Stops Here can help smokers stay on the path to quitting.
Appearing with Lawton was Maida Bogoslofsky, a former smoker who participated in The Butt Stops Here and credits the program for helping her quit.
St. Peter's Health Partners offers the award-winning The Butt Stops Here program several times per year. It consists of seven 1-hour sessions and includes a workbook and two weeks of nicotine patches or gum. The group-supported program meets weekly and is led by a St. Peter's Health Partners facilitator. The cost is $45, or $20 for Medicaid participants. For CDPHP participants the cost is free.
For more information on The Butt Stops Here, click here.
To learn more about quitting smoking, visit: www.quitsolutions.org.