Times Union: Area Hospitals Outline Bed-Boosting Plans as COVID-19 Hospitalization Rises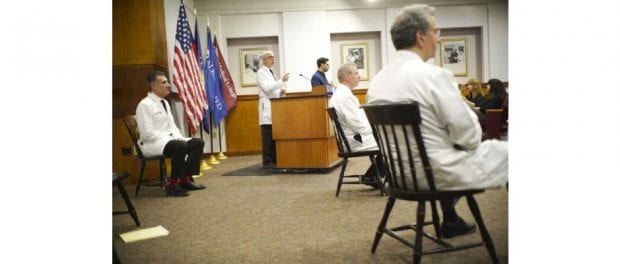 Steven Hanks, M.D., chief clinical officer for St. Peter's Health Partners, was featured in an article by the Times Union following a news conference held Tuesday in Albany. During the news conference, clinical leaders from 10 Capital Region hospitals updated the public on their preparedness and response to the COVID-19 pandemic. This included plans to deal with a possible surge of patients.
From the article:
"I believe that we can reassure the public here in Albany that our plan and the plans of Albany Medical Center and all the other regional hospitals will be able to meet the needs of this community in the event we have a worst-case scenario surge," said Dr. Steven Hanks, chief clinical officer for St. Peter's Health Partners, which operates four hospitals in Albany and Troy.

St. Peter's plan would nearly double the number of acute care beds across its system from 702 currently to 1,365, he said. Intensive care unit beds would more than triple from 48 currently to just over 150, he said.

Additionally, just adding beds is not enough. They would also need to be staffed, Hanks noted. To do that, St. Peter's would shuffle staff currently working in outpatient settings to work inpatient, and call on retired health care workers to help out. It also has the resources of its national parent organization to call upon. Trinity Health System, which operates 94 hospitals in 22 states, will redeploy staff across the U.S. as needed, he said.

"There are still people who feel that perhaps we're overreacting… this is not histrionics," he said. "In the last seven days, the total number of cases in New York has gone up by a factor of 15. In this region our number of hospitalized patients with COVID-19 has gone up by 33 percent in just the last 24 hours. So these plans are not histrionics, they're not panic. This is timely attention to necessary detail in order to assure the public that we can fulfill our sacred mission of being able to care for them."
Click here to read the full article from the Times Union.