Times Union: Healthy French Teen Crosses Globe to Meet Albany Nurses Who Saved Her Life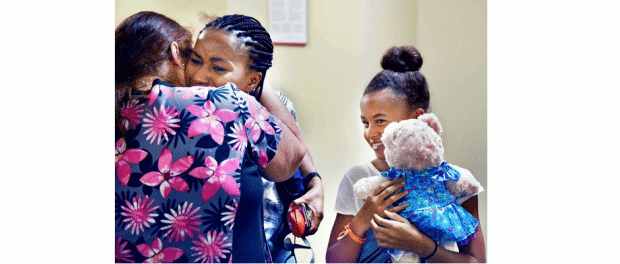 The Times Union published a story on Wednesday's emotional reunion between Ella Koenig Belliard de Vaubicourt, her mother and the nurses at St. Peter's Hospital who cared for Ella following her premature birth in 2005.
From the article:
"The circle has closed. We've come back," Lyndsay said, tears welling and then spilling.

She shared the thought that kept running through her head: "That she's here. I almost lost her. It's probably the hardest thing I've ever been through, and I almost died from a hemorrhage when I was 27. It's nothing compared to almost losing your child."

The homecoming was emotional for others too. Ella didn't know it, but a nurse named Kelly Maceachron had grown especially attached to mother and daughter during their nine-week stay in Albany.

"You know, we see those little babies and a lot of times we don't ever see them again," Maceachron said Wednesday. "So it's wonderful to be able to see her and hug her and know that she's well. That's just a wonderful, wonderful feeling."
Ella and her mother are in New York City for a week-long visit. St. Peter's Hospital was first on their list of places to see.
Click HERE to read the Times Union article.