Times Union: Pandemic May Lead More to Become Nurses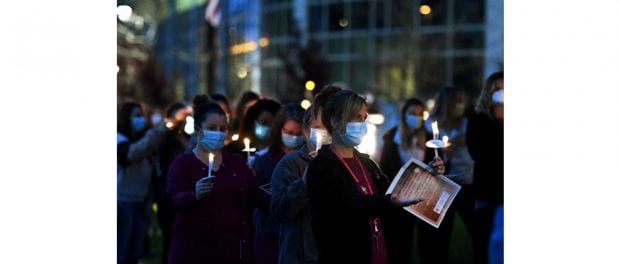 The Times Union interviewed Christopher Jordan, chief nursing officer for St. Peter's Health Partners Acute Care; Patricia Cannistraci, dean of Samaritan Hospital School of Nursing; and Natasha Delehanty, RN, nurse manager for 6 McAuley at St. Peter's Hospital, for its story on the future of nursing in a post-pandemic world.
Jordan, Cannistraci, and Delehanty discussed how the COVID-19 crisis is likely to inspire a new generation of nurses.
From the story:
"I think this pandemic has really opened up nursing to the world — to see the faces of nurses, to see the many different roles that nurses play, and I think hopefully to give respect to the nursing community," Delehanty said. "So I think it has enticed a lot of interest in nursing."

If her prediction is correct, it would ease current and future nurse shortages nationwide. The U.S. Bureau of Labor Statistics predicts that that there will be an average of 203,700 openings for registered nurses each year from 2016 to 2026. Ann Kurth, dean of the Yale School of Nursing, said in rural areas and under-served areas, there are "just way fewer nurses than it should be."

Samaritan Hospital School of Nursing Dean Patricia Cannistraci said her school has had to turn away qualified students because there is a faculty shortage as teachers reach retirement age. But Kurth said she hopes more people will go into nursing after the pandemic.

"We certainly look for the next generation of wonderfully committed nursing students to come in," she said. "They're really needed now more than ever, and I think they'll see that, and we certainly value it."

According to interviews with a number of nurses in Albany, some think there will be an increase in people joining their profession after the pandemic, including Christopher Jordan, the acute care chief nursing officer for St. Peter's Health Partners.

"I would expect that we're going to see some bump in the number of applicants into the field of nursing as a result of this," he said. "I think the press and everything that you're seeing, whether it be on social media or it be in the traditional media and multi-medias, is really around the heroism of today's nurse and heroism of the health care worker."
Click here to read the Times Union's full article.