WRGB: Capital Region Hospitals Stress Public Needs to Remain Calm Over Coronavirus Preparedness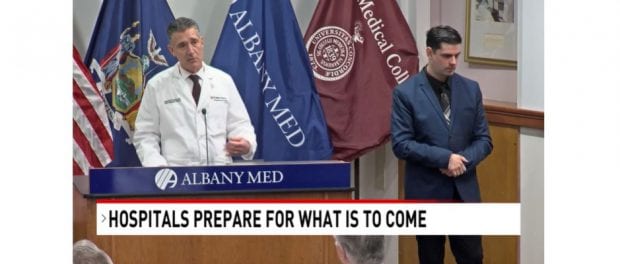 Steven Hanks, M.D., chief clinical officer for St. Peter's Health Partners (SPHP), discussed the Capital Region's response to COVID-19 in a report that aired on WRGB/CBS6 News. Dr. Hanks represented SPHP at a news conference with other regional hospitals on March 24.
From the story:
"I believe that we can reassure the public here in Albany that our plan and Albany Med and all other hospitals will be able to meet the needs of the community in event we have worst case scenario," said Dr. Steven Hanks, St. Peters Hospital.

Doctors also say that homemade cloth masks, while extremely well-intended, at this time are not considered Personal Protective Equipment (PPE). But they say they are overwhelmed by all support and donations they are receiving.
Click here to watch WRGB's full report.