SPHP Approved by NYS DOH to Resume Scheduled Surgeries and Procedures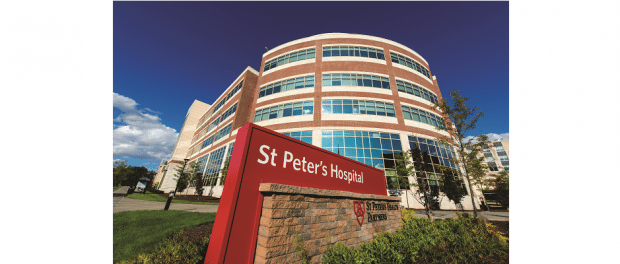 St. Peter's Health Partners received a waiver from the New York State Department of Health early this morning (Friday, May 8), permitting St. Peter's Hospital and Samaritan Hospital to resume scheduled surgeries and procedures. Procedures will begin at both campuses on Tuesday, May 12.
The emergence of the novel coronavirus, COVID-19, brought a halt to elective procedures throughout the Capital Region in March, as health care organizations throughout the area worked to slow the growth of the virus in our communities. As the positive impact of social distancing begins to flatten the curve for COVID-19 cases in the Capital Region, SPHP is resuming select critical services and elective surgeries to provide clinically necessary care.
"This news from the New York State Department of Health is an encouraging sign that our community is beginning the slow process of recovering from the devastating effects of the coronavirus," said James K. Reed, M.D., president and CEO of St. Peter's Health Partners. "By slowly phasing these services back online, we are addressing a critical need that had been placed on pause for the safety of our colleagues, our patients, and our community."
In presenting its waiver application to the NYS DOH, St. Peter's Health Partners outlined its plan to safely resume these surgeries and procedures, while maintaining its ability to care for a surge in COVID-19 patients, should the need arise in the coming weeks.
"In a normal month, we would typically care for more than 1,600 individuals with scheduled surgeries and procedures. In the past 30 days, we have done just over 520 cases that were non-COVID related," said Steven Hanks, M.D., chief clinical officer for SPHP. "Safety remains paramount for us, and we are committed to providing that safe, quality care we know our patients and communities need."
Enhanced safety measures at SPHP include:
Continued screening and temperature checks for anyone entering our facilities.
COVID-Free Zones to separate patients confirmed to have COVID-19 from others in our facilities.
CDC standards for facility deep cleaning with increased frequency and special attention to surfaces that are frequently touched, like doorknobs and flat surfaces.
Continued visitor restrictions.
Patients scheduled for an elective surgery/procedure will be tested for COVID-19 within 72 hours of their scheduled surgery/procedure at SPHP's outpatient testing center on the Albany Memorial Campus. Those patients whose surgery/procedure will necessitate an overnight stay in the hospital will be tested within 24 hours of their scheduled surgery/procedure. Procedures will only proceed if the patient tests negative for COVID-19. If a patient does test positive, the case will be rescheduled and not performed until a negative result is obtained (unless the case is urgent/emergent).
"People need to know it is safe to seek essential surgical and medical treatment," said Alan Sanders, M.D., chief medical officer for SPHP Acute Care. "St. Peter's is taking a thoughtful, phased approach, in addition to following CDC and state COVID-19 guidance, to provide a safe environment for our patients and colleagues."
St. Peter's Health Partners continues to offer safe, accessible care in its emergency departments at St. Peter's Hospital, Samaritan Hospital, and Samaritan Hospital – Albany Memorial Campus. Telehealth services are also a convenient option for patients. To make an appointment or to schedule a surgery, procedure, or in-person visit, please visit: https://www.sphp.com/virtualhealth/.
With nearly 12,000 employees in more than 170 locations, St. Peter's Health Partners is one of the Capital Region's largest and most comprehensive not-for-profit integrated health care networks, and provides high-quality, compassionate, and sophisticated care to thousands of people every day. St. Peter's Health Partners is a member of Trinity Health, one of the nation's largest Catholic health systems. For more information, please visit www.SPHP.com.