Times Union: Rate of New Hospitalizations for COVID-19 Slowing in Capital Region, Leaders Say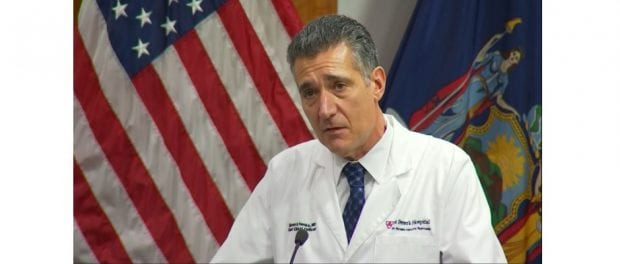 Steven Hanks, M.D., chief clinical officer for St. Peter's Health Partners, was quoted in the Times Union's coverage of the April 3rd regional news conference, held at Albany Medical Center.
Dr. Hanks discussed the positive impact that social distancing is having on the COVID-19 hospitalization rate. Dr. Hanks also discussed the recent transfer of COVID-19-positive patients from New York City to local hospitals, including six patients transferred to St. Peter's Health Partners.
From the article:
"It really doesn't matter where the call comes from," Hanks said. "We're here to take care of patients in need. We have a moral obligation to do so and we will continue to do so as long as we're capable of fulfilling that mission."
Dr. Hanks also discussed the masking of patient-facing colleagues and Governor Cuomo's executive order concerning the redeployment of ventilators.
Click here to read the full article.