Trinity Health Announces COVID-19 Vaccine Requirement for All Colleagues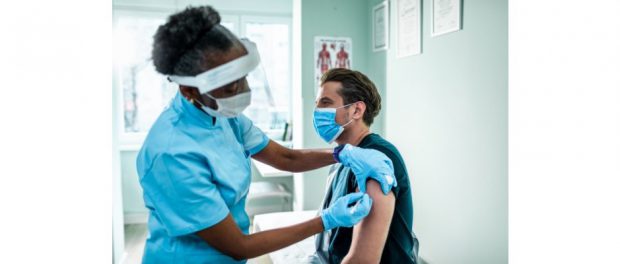 Trinity Health today announced, effective immediately, it will require all colleagues, clinical staff, contractors, and those conducting business in its health care facilities be vaccinated against COVID-19. The requirement applies to Trinity Health's more than 117,000 employees in 22 states nationwide in an effort to stop the spread of the virus and keep all patients, colleagues and the broader communities safe. This includes more than 11,000 colleagues with St. Peter's Health Partners (SPHP).
Since December 2020, when the U.S. Food and Drug Administration approved the first vaccine for Emergency Use Authorization, Trinity Health has strongly encouraged vaccination for all colleagues and within the communities its various Health Ministries serve. To date, the health system estimates nearly 75% of Trinity Health employees have already received at least one dose of the vaccine, and it now looks to close the gap with this new requirement.
Acknowledging that great strides have been made in combating COVID-19, Dr. James K. Reed, president and CEO of SPHP, said the battle against COVID is far from over. He stressed the importance of remaining vigilant, especially with the fast-spreading Delta variant now detected in at least 85 countries around the world, including the United States.
"Safety is one of our Core Values. We know these vaccines are safe and reduce the chance that members of our community could become seriously ill or end up in one of our hospitals," said Dr. Reed. "We have an obligation to those we serve to provide the very best care. This decision represents the next step in our continuing efforts to do all we can to provide healing, compassionate care, while recognizing our vital role in ending this pandemic."
The Centers for Disease Control and Prevention (CDC) estimate more than 331 million doses of the COVID-19 vaccine have been administered in the U.S. The vaccines have proven to be safe and effective against symptomatic infections, hospitalizations and death with more than 99% of COVID-19 deaths today occurring in unvaccinated people.
Steven Hanks, M.D., chief clinical officer for SPHP, has led the health care system's COVID-19 response since the first local cases of COVID-19 were identified in March 2020. He expressed gratitude for the tireless efforts of SPHP's frontline workers during the pandemic and praised vaccination efforts both across the SPHP system of care and throughout the Capital Region.
"Despite innumerable challenges, our colleagues never wavered in their dedication to their patients, and to one another," said Dr. Hanks. "They persevered and were among the first to roll up their sleeves and get vaccinated to further protect themselves and their community."
Employees at Trinity Health and its health ministries must meet a series of rolling deadlines, with most locations requiring colleagues to submit proof of vaccination by Sept. 21, 2021. It has not yet been determined if a COVID-19 vaccine booster will be required annually; if so, employees will also need to submit proof of the booster, as needed. Exemptions are available for religious or health reasons and must be formally requested, documented and approved. Employees who do not meet criteria for exemption and fail to show proof of vaccination will face termination of employment.
Community members still looking to get vaccinated are encouraged to check New York state's website "Am I Eligible" for an updated list of community sites with vaccine doses and accepting appointments. New York state also has a COVID-19 Vaccination Hotline which eligible New Yorkers can call to schedule a vaccination appointment at 1-833-697-4829. Walk-ins are also now welcome at state-run facilities. For vaccine FAQs, visit https://www.sphp.com/health-and-wellness/coronavirus-vaccine/.