Times Union: St. Peter's Antibody Infusion Center Seeing Progress Fighting Early-Stage COVID-19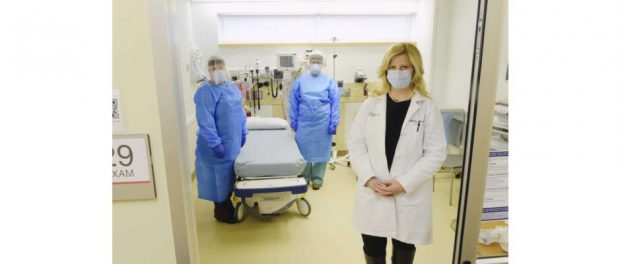 The Times Union published an article on the expansion of SPHP's monoclonal antibody clinic. Located on the Samaritan Hospital – Albany Memorial Campus, the clinic has infused more than 450 COVID-positive patients since it opened on Dec. 3, 2020.
Melissa Fiorini, M.D., an emergency medicine and critical care physician, oversees the clinic and was interviewed for the story. Dr. Fiorini discussed the process of establishing and running the clinic; the benefits of the therapy; and her efforts to ensure those who need the treatment can have access to it.
From the story:
St. Peter's has been identifying candidates for the therapy based off of a doctor's referral, as well as through local emergency rooms and urgent care centers when patients are not sick enough to require hospitalization.

The hospital system is trying to ensure marginalized groups have access to the treatment, Fiorini said. Capturing patients when they come into ERs and urgent cares is one way to do that, as many people who lack health insurance and primary care doctors routinely use those settings to receive care.

"We've done homeless patients who are being discharged to a hotel because they can't go back to a community living shelter that they were in and we arrange (to send them) to a hotel that's near the infusion center and they've just walked over and gotten their infusions," she said.

The hospital has also started bringing infusions directly into nursing homes where outbreaks are occurring so frail patients do not have to leave home.

"They literally feel like it was life-saving," Fiorini said of the patients who've received infusions. "There have been others who had 30 hours of fever and then within 12 hours of getting the infusion their fever broke, their breathing got better. I've had even younger but diabetic patients who… email me the next day and say my body aches went away, my fever's gone."
Click here to read the full article.