WTEN: St. Peter's Health First in Capital Region to Offer Monoclonal Antibody Therapy for COVID Patients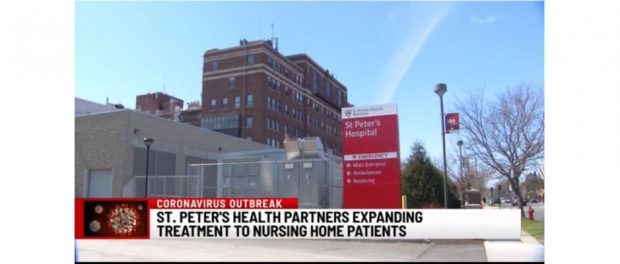 WTEN/News10 aired a story on the expansion of St. Peter's Health Partners' (SPHP) monoclonal antibody therapy program. SPHP has been offering monoclonal antibody treatment at its infusion clinic on the Albany Memorial Campus since December and is now offering the treatment at several of its skilled nursing facilities.
From the story:
St. Peter's Health Partners (SPHP) is now offering monoclonal antibody therapy to eligible COVID-positive residents in their nursing facilities. This is an expansion of SPHP's monoclonal antibody infusion clinic, which has already treated more than 450 patients in the Capital Region.

SPHP became the first health care institution in New York's Capital Region to offer monoclonal antibody therapy, the only FDA-authorized treatment for COVID-19, when it opened a clinic at the Samaritan Hospital – Albany Memorial Campus on Dec. 3, 2020.

Melissa Fiorini, M.D., an emergency medicine and critical care physician at SPHP, oversees the clinic. From her experience, she has seen first-hand the benefits the treatment can have, especially for the elderly who are most at risk of hospitalization and severe illness.

"I have seen some patients who have battled persistently high fevers for days, who after receiving the treatment, had their fever disappear within 12 hours," said Fiorini. "Some have even called it life-saving."
Click here to watch WTEN's report.