Times Union: St. Peter's Cuts Ribbon on Clifton Park Medical Campus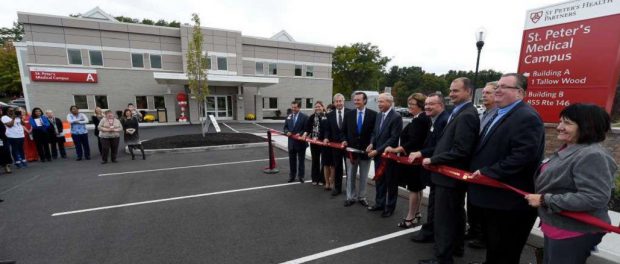 St. Peter's Health Partners held a ceremony Tuesday to celebrate the opening of its newest project, the St. Peter's Medical Campus in Clifton Park. The Times Union was in attendance to report on the important milestone.
From the article:
Officials from St. Peter's Health Partners cut the ribbon Tuesday on a $7.5 million medical campus project on Route 146, and celebrated the fifth anniversary of the organization, founded on Oct. 1, 2011 with the mergers of Northeast Health, Seton Health and St. Peter's Health Care Services.

Expanded services provided by St. Peter's on the renovated two-building, 38,000-square-foot campus at the corner of Tallow Wood Drive include urgent care, primary care, obstetrics and gynecology, imaging and laboratory services, with a pediatric office expected later this fall. Other medical practices on site will provide critical care and treatment for diabetes and lung diseases.
See the full story here.