St. Peter's Health Partners Receives National Recognition for New Behavioral Health Treatment Model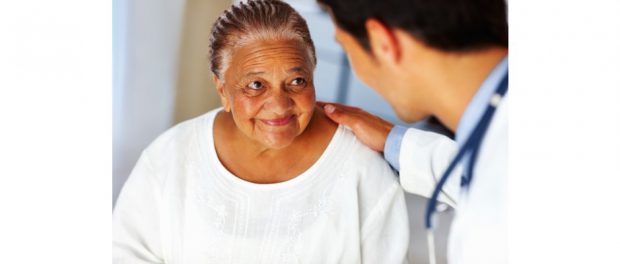 St. Peter's Health Partners (SPHP) is receiving state and national recognition for its new integrated behavioral health model in primary care, designed to greatly increase the number of patients receiving treatment for mental health issues like depression and anxiety.
The idea behind the program is to treat patients for mental health issues within their primary care setting, removing barriers to getting care.
The Centers for Medicare and Medicaid Services (CMS) has given this new integrated behavioral health model Best Practice Recognition in its CMS Primary First Spotlight, a National CMS publication for Primary Care Practices enrolled in the program across the nation.
Using St. Peter's integrated behavioral health model, a primary care practice is provided with a behavioral health manager and a consulting psychiatrist so that patients expressing symptoms of depression, anxiety (and eight other behavioral health issues) can receive immediate treatment where they are, with the doctor with whom they already have a rapport. Primary care doctors report an increased comfort level treating their primary care patients for mental health concerns when they have behavioral health experts working alongside them.
"Ninety-five percent of care is provided telephonically, so the patient doesn't have to physically go anywhere to receive treatment," explained Deb House, Integrated Care Coordination Services Clinical Executive at St. Peter's Health Partners. "They are connected with a care manager over the phone, several times a month, to touch base on symptoms and what's going to help them feel better."
This approach is designed to eliminate several common barriers to receiving mental health services, including work schedules, childcare, transportation issues, etc. The St. Peter's model was implemented by Susan Mrakovcic-Kane, Supervisor, Social Services, Care Coordination at SPHP.
"There have always been long-standing challenges to accessing mental health services," said Mrakovic-Kane. "Given the increased demand for those services in our community, this model allows us to provide care that best supports our patients."
The integrated behavioral health model allows for more patient capacity in primary care offices as well as other clinics and practices, ensuring that specialty care is available to those who need it most.
"There are just not enough mental health care providers." said House. "This program expands our ability to treat patients for behavioral health issues, specifically depression and anxiety, to hundreds, if not thousands more patients than we would have been able to serve."
"This is not unique to St. Peter's. It's a large problem in our country," said Mrakovcic-Kane. "If treatment is kept in place (with primary care physicians) across the country, tens of thousands more patients could be reached, and possibly receive even better treatment by using the primary care physician."
"The idea behind integrated care is making sure each person receives the right level of care at the right time, and ensuring those transitions are seamless for the patients," said Rachel Handler, Executive Director of Behavioral Health for SPHP. "Being that bridge for someone in need can provide them with a critical path to healing that they might not otherwise have been willing or able to seek and receive."
Colleagues of Mrakovcic-Kane and House have reported more than 30 percent of their primary care patients have been in need of mental health treatment just in the last year.
The first St. Peter's location to roll out this model was St. Peter's Internal Medicine, located at 147 Hoosick Street in Troy, in March 2020. In all, eight St. Peter's practices are currently using the model.
Other locations currently using the integrated behavioral health model are:
Troy Family Health Center
Capital Region Family Health Center
Troy Internal Medicine
Family Medical Group
Cohoes Family Care
Clifton Park Family Practice
Physical Medicine and Rehabilitation
Patients at these practices have responded positively, thanking their physicians for removing the barriers to receiving needed treatment for anxiety and depression, and for administering quality treatment and care.
CMS has indicated it intends to use St. Peter's integrated behavioral health model as a guide for other facilities across the nation that are starting to build their own models. They emphasized this model within primary care can impact overall population health, quality of life and improved health outcomes for patients served.
"I think this is one of the most successful and collaborative care launches in the state," said House. "It's rewarding to see some of the stigma come off of mental health and having it more widely accepted in primary care practices."
"It's rewarding to me to know the work we are doing with our patients is being used for successful outcomes," said House.
Mrakovcic-Kane and House were also guests on a new health care podcast hosted by CMS and CMS Primary Care First (which is an alternate payment model designed to reduce Medicare spending and improve quality and access to care for all patients).
The podcast focuses on St. Peter's specific integrated behavioral health model and other issues of complex care management. You can listen to it here.
SPHP's Integrated Care Coordination System (ICCS)
When St. Peter's Health Partners (SPHP) was formed in 2011, a key goal of the merger was to provide high-quality health care across our continuum of services. Today, that goal continues to drive SPHP's mission. We strive to provide seamless, patient-centered care regardless of location. In order to provide that continuum of care, we rely on care coordination – the partnership of care providers with patients and families.
SPHP's Integrated Care Coordination System (ICCS) encompasses all of the work in support of care coordination, and involves various teams of colleagues across SPHP who meet regularly to assess how they can further foster collaboration, reduce redundancy, promote patient centeredness and outcomes, and reduce adverse events. The ICCS focuses on patient transitions/movement, patient goals and engagement, ensuring we "close the loop" between transitions, and increasing communication between providers and with our patients.