Times Union: To OR Nurse, Workers Are Family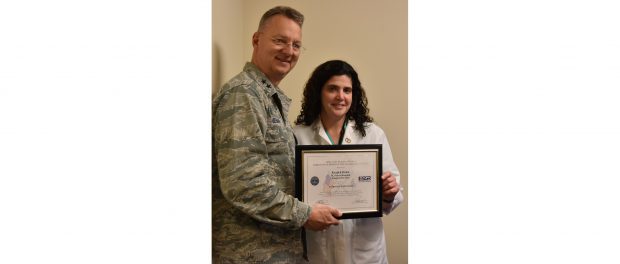 Helen Krajick, RN, MS, CNOR, manager of the operating room (OR) at St. Peter's Hospital, was recognized this summer for her support of an employee in the U.S. Armed Forces.
Representatives from the U.S. National Guard presented Krajick with the Patriot Award for her support of St. Peter's Hospital OR nurse Donna McCormick, RN, who serves in the National Guard. McCormick recently served in Germany as a member of an aeromedical evacuation unit.
From the article:
McCormick, who has been working at St. Peter's since 2001, joined the National Guard in 2005. Her deployments last 120 days. Serving the country is a family affair, with her husband, Master Sgt. Robert McCormick, recently retired from the Air National Guard.

Plenty weighs on the mind of a deployed service member — family, home, loneliness, job security. It certainly helps if the supervisor is understanding.

Krajick puts McCormick's mind at ease regarding her work situation when she needs time off for military drills. When McCormick is deployed, Krajick holds her position until she returns and eases back into civilian life.

McCormick recalled how Krajick made it easy for her "a month before and a month after deployment" to allow for briefing before deployment and debriefing and assimilating back into civilian life after.

When McCormick was diagnosed with breast cancer in 2014, Krajick again came to the rescue.

"Helen is very caring, very giving," McCormick said. "She let me stay out as long as I needed to. I didn't have to worry about my job while I was deployed and also when I was out sick."
See the full story here.