WNYT: Albany Co. Announces New Partnership to Ease Hospital Strain as Cases Reach New Record High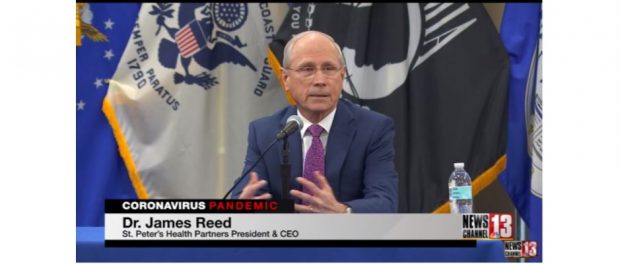 James K. Reed, M.D., president and CEO of St. Peter's Health Partners, appeared on WNYT to announce a new partnership with Albany County to help address hospital capacity concerns. It involves the utilization of space at the county-run Shaker Place Nursing Home.
From the report:
The county recently completed renovations at Shaker Place Nursing Home, which means that there is an empty tower available that is separate from the new nursing home.

The building houses about 160 beds and has a separate ventilation system and entrance from the rest of Shaker Place.

The tower, which would ease the burden on hospitals, will be run by St. Peter's staff and would care for COVID-19 patients who are no longer infectious but may need additional care.

County Executive McCoy really stressed this new imitative will not put Shaker Place residents at risk, as everything even down to the food and cleaning supplies will be separate from this building.

While they aren't moving any people there now, the president of St. Peter's Health Partners says this is an incredible resource.
Click here to watch WNYT's report.