WNYT: Albany Hospital Devoting Entire Unit to Outpatient COVID Treatment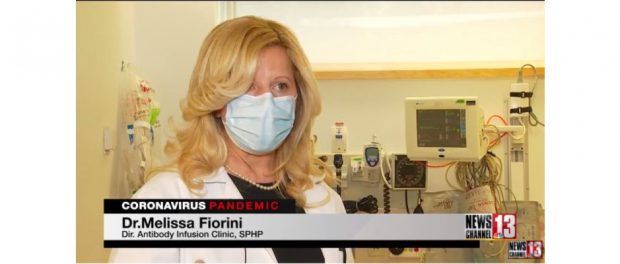 Melissa Fiorini, M.D., emergency medicine and critical care physician at St. Peter's Health Partners (SPHP), was interviewed by WNYT about SPHP's monoclonal antibody infusion clinic. Dr. Fiorini oversees the clinic, which is located on the Albany Memorial Campus.
The clinic provides monoclonal antibody therapy for qualifying COVID-positive patients. Dr. Samuel Bosco, regional director of emergency medicine for SPHP, had the treatment and was also interviewed for the story.
From the report:
While there's so much attention on the COVID vaccine, we may be forgetting about a treatment that's helping keep certain COVID patients out of the hospital.

It's called monocolonal antibody infusion.

Regeneron got a lot of press when it released the drug. Eli Lilly also makes the infusion.

Basically, it gives COVID patients a boost to their immune system to help fight the coronavirus, preventing it from overwhelming the body.

At the Albany Memorial Campus of St. Peter's Health Partners, they've got a dedicated unit to provide this care.
Click here to watch WNYT's report.