St. Peter's Health Partners Expanding Monoclonal Antibody Therapy for COVID-19 Patients
St. Peter's Health Partners (SPHP) is now offering monoclonal antibody therapy to eligible COVID-positive residents of its skilled nursing facilities, allowing residents to receive the potentially life-saving treatment without having to leave the comfort of their own facility. This represents an expansion of SPHP's monoclonal antibody infusion clinic, which has already treated more than 450 patients in the Capital Region in the short time since its inception.
SPHP became the first health care institution in New York's Capital Region to offer monoclonal antibody therapy – the only FDA-authorized treatment for COVID-19 – when it opened a clinic at the Samaritan Hospital – Albany Memorial Campus on December 3, 2020.
Melissa Fiorini, M.D., an emergency medicine and critical care physician at SPHP, oversees the clinic and has been a driving force in enabling its expansion. From her experience at the bedside, she has seen first-hand the benefits the treatment can have, especially for the elderly who are most at risk of hospitalization and severe illness.
"I have seen some patients who have battled persistently high fevers for days, who after receiving the treatment, had their fever disappear within 12 hours," said Fiorini. "Some have even called it life-saving."
For Fiorini, it's been a round-the-clock job. From the clinic's inception, she has personally fielded every referral – from emails, texts, and phone calls – to ensure that those who were ill and qualified, could have access to the antibody treatment.
"We have worked very hard to offer this treatment to the most vulnerable in our community," said Fiorini. "This has involved close coordination with the region's skilled nursing facilities and local urgent care and emergency departments to make sure this treatment is for everyone."
This effort has also included coordinating care for uninsured or homeless patients, not only arranging treatment for them, but also temporary housing.
"Our homeless COVID-positive patients who seek care in our emergency departments can't return to a shelter," Fiorini explained. "With help from our social service colleagues, we have been able to arrange monoclonal antibody treatment for them at the clinic, and then place them in a local hotel where they can safely recover."
Being able to expand infusions to several SPHP skilled nursing facilities is another important component to caring for those most vulnerable in the community. Of the more than 450 patients treated at the clinic, one-quarter have been from a nursing home.
"Those residents, who are already ill and elderly, have had to be transported to the infusion center to receive this treatment. That takes a significant amount of coordination and time," said Michael Burke, M.D., chief medical officer for SPHP Continuing Care. "Now, we have the ability to bring this therapy directly to our residents in the facilities they call home. It is not only more convenient, it is better for the physical and mental health of our residents, especially for our memory care residents. It also frees up space for other patients in need of infusion."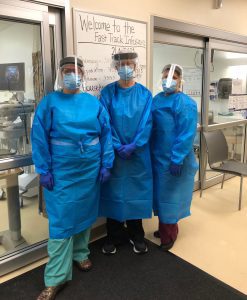 Known as monoclonal antibody therapy, the treatment involves the intravenous administration of bamlanivimab or the combination of casirivimab and imdevimab. The drugs are designed to enhance the body's natural immune response to the virus and must be given within 10 days from the first onset of symptoms.
Research so far has shown that in certain people, these new drugs, made by Eli Lilly and Regeneron Pharmaceuticals, may help symptoms improve sooner and might lessen the likelihood that they will need hospitalization. The drugs are currently authorized for emergency use by the FDA based on limited phase II study data which showed that monoclonal antibody treatment may decrease emergency department visits or hospitalizations.
Alan Sanders, M.D., chief medical officer for SPHP Acute Care, says while this treatment may be new, it has shown to be safe and effective. "For many people infected with COVID-19, symptoms can be mild, but for a large number of people, symptoms can quickly become very serious and even deadly," said Sanders. "As health care providers, our number one priority is to provide the best care we possibly can for our patients and right now, this treatment is our best shot at helping to prevent patients from becoming critically ill."
Samuel Bosco, M.D., FACEP, regional medical director of emergency medicine, SPHP and Envision Physician Services, was very concerned about getting sick with COVID-19, especially since he had two risk factors that increased his chances of becoming seriously ill. In early December, Dr. Bosco's fears became reality when he tested positive for the virus.
"I developed a cough, fever, chills, and just felt horrible," said Dr. Bosco. "Knowing what can happen to people with this disease, I was very concerned. You just can't predict how this disease is going to affect people."
Over the next couple of days, his fever spiked to 102 degrees and would not respond to medication. His wife had purchased an oximeter at the local pharmacy to keep track of his oxygen levels and, within a couple of days, his levels began to drop. That's when he called his primary care doctor who referred him to SPHP's monoclonal antibody therapy clinic. They were able to schedule him the next day.
"The whole process was very smooth," said Dr. Bosco. "Later that night, in some strange way, I was feeling a bit better. By the next morning, my fever had broken and I was starting to really feel better and continued to improve throughout the week."
Dr. Bosco says he feels the treatment definitely lessened the severity of his illness and is grateful for the positive experience he had with it. Although he has completely recovered, he remains acutely aware that it could have been a different outcome. And while the vaccine has arrived and treatments are getting better, Dr. Bosco says the virus remains a very real threat. He reminds everyone to remain vigilant with hand sanitization and mask wearing, and to not let their guard down.
"If you slip up just once, that's all it takes for you to be exposed," he said.
Only those patients who are eligible and have a referral from their physician can qualify to receive this treatment. If you do not have a primary care provider, but meet the eligibility requirement, email MABReferrals@sphp.com.
ELIGIBILITY:
Must have a positive SARS-CoV-2 PCR test
At least 40 kg (about 88 pounds)
At high risk for hospitalization or severe COVID-19 illness
HIGH RISK DEFINED AS:
Over the age of 65
Have a body mass index (BMI) greater than 35
Have diabetes
Have chronic renal disease
Have an immunosuppressive disease
Are currently receiving immunosuppressive treatment
Are at least 55 years of age AND have cardiovascular disease, or hypertension, or chronic obstructive pulmonary disease/other chronic respiratory disease
St. Peter's Health Partners has been at the forefront of COVID-19 treatment. St. Peter's Hospital and Samaritan Hospital were among the first hospitals in the United States to obtain FDA approval to treat critically ill patients infected by COVID-19 with blood plasma from a COVID-19 survivor. To date, SPHP has treated more than 250 patients with this convalescent plasma therapy.
St. Peter's and Samaritan were also the first hospitals in the Capital Region to use the experimental antiviral drug Remdesivir to treat COVID-19 patients, along with a variety of other therapeutic methods including IL-6 inhibitor drugs and macrophage inhibitors. As of January 6, more than 500 COVID-19 patients had been treated with Remdesivir. These experimental therapies are being deployed alongside the compassionate, patient-centered care for which St. Peter's Health Partners has always been recognized.
About St. Peter's Health Partners
With nearly 12,000 employees in more than 170 locations, St. Peter's Health Partners is one of the Capital Region's largest and most comprehensive not-for-profit integrated health care networks, and provides high-quality, compassionate, and sophisticated care to thousands of people every day. St. Peter's Health Partners is a member of Trinity Health, one of the nation's largest Catholic health systems. For more information, please visit www.SPHP.com.