WNYT: DOH Officials Projecting Record Number of Flu Cases This Season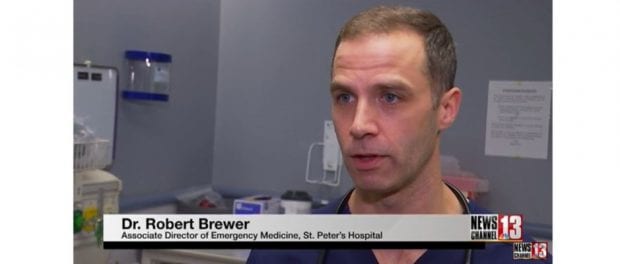 Robert Brewer, M.D., associate director of emergency medicine at St. Peter's Hospital, was interviewed by WNYT about the current flu season, which the New York State Department of Health predicts could be a record one.
Although the flu vaccine is not 100% effective this year, Dr. Brewer stressed the importance of getting vaccinated. He also discussed what a person should do if they contract the flu and when to seek medical treatment.
From the story:
Though most of the time it's best just to ride out the virus at home with fever reducers and plenty of rest, Dr. Brewer said it's important to pay attention to those symptoms.

"We expect you to have a fever, we expect you to have chills, body aches and not feel well, but if you start to get really short of breath or have a lot of chest pain that becomes much more concerning to us," he said. "Because one of the complications and the complication people often get really sick from with the flu is influenza pneumonia and that requires sometimes different treatment."
Click here to watch WNYT's report.