WNYT: St. Peter's Among Capital Region Hospitals Dealing with Sharp COVID Surge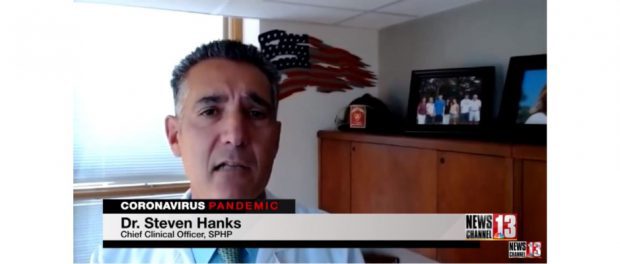 Steven Hanks, M.D., chief clinical officer for St. Peter's Health Partners (SPHP), was interviewed by WNYT about the regional increase in COVID-19 hospitalizations.
Dr. Hanks discussed how SPHP is preparing to handle the surge in cases, as well promising developments on the vaccine front. He also discussed how regional hospitals are working together to improve care for those battling the illness.
From the story:
While Dr. Hanks says improved treatment means about half the number of ICU patients and deaths, more people are being hospitalized from the general community versus congregate settings than in the spring and these folks are more likely to spread the virus, eventually reaching the nursing home population.

Granted, the good vaccine news from Pfizer and Moderna brings hope, but he says the worst thing would be to throw caution to the wind now.

Plans are also in the works locally to provide a new therapy to COVID patients that could keep them from needing hospitalization. The local hospitals are also working on a special unit to get certain nursing home patients out of the hospital.

While the virus shows no signs of slowing, these new treatments options are saving lives.
Click here to watch WNYT's report.