WRGB: COVID Cases Continue to Climb as Fears Over Omicron Variant Grow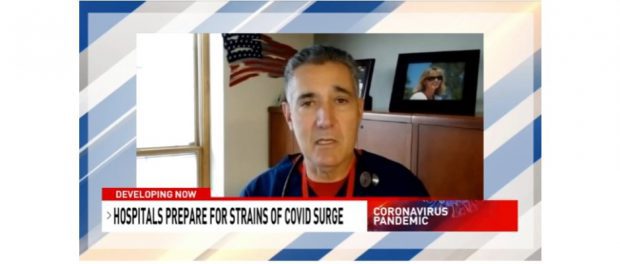 WRGB/CBS6 News interviewed Steven Hanks, M.D., chief operating officer and chief clinical officer for SPHP, about the growing number of COVID cases in the Capital Region, and the threat posed by the new Omicron variant.
From the story:
While a surge of COVID cases is putting a strain on hospitals, there's now new cause for concern as the newly discovered Omicron variant makes its way around the globe.

More time spent indoors and people gathering for the holidays create conditions conducive to spreading viruses, especially if it's a highly contagious one like the delta covid strain.

Even before Thanksgiving, the number of COVID cases were climbing. With the holidays just starting, many fear the situation won't get any better.

"The cases are rising. We've had a 53-percent increase across the region in the last six days in terms of the number of COVID positive in-patient, so it's rapidly increasing," said Dr. Steven Hanks, Chief Clinical Officer and Chief Operating Officer of St. Peter's Health Partners (SPHP).
Click here to watch WRGB's report.