WRGB: "Socktober" Donations Collected by SPHP Staff to Benefit Six Area Shelters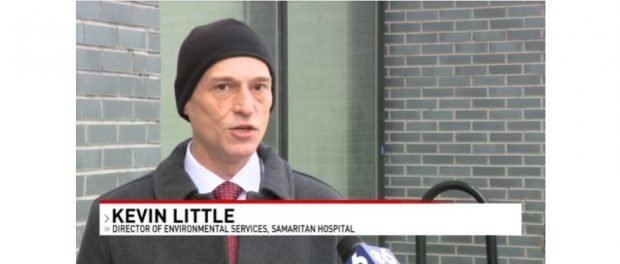 WRGB/CBS6 News aired a story on the donation made by St. Peter's Health Partners (SPHP) of thousands of pairs of socks to area homeless shelters.
Kevin Little, director of Environmental Services at Samaritan Hospital, spearheaded the effort and talked about how its success highlights SPHP's mission to serve as a transforming healing presence in our communities.
Staff in St. Peter's Health Partners' Environmental Services department participated in the nationwide "Socktober" campaign this past October with the goal of collecting enough pairs of socks to make donations to a couple of local homeless shelters.

4,269 pairs of new socks were donated from across five locations in SPHP: Samaritan Hospital and its two satellite campuses, Albany Memorial and St. Mary's; St. Peter's Hospital; and Sunnyview Rehabilitation Hospital.

The response was so great that SPHP is donating the socks to six local shelters in all.

Kevin Little, Director of Environmental Services at Samaritan Hospital, says "The individuals who work in the hospitals are already committed to providing care to others and this just shows it goes more than just the patients who walk in the door. It goes to the community at whole and the community at large."
Click here to watch WRGB's report.