WRGB: St. Peter's Health Partners Increases Starting Hourly Wages to $15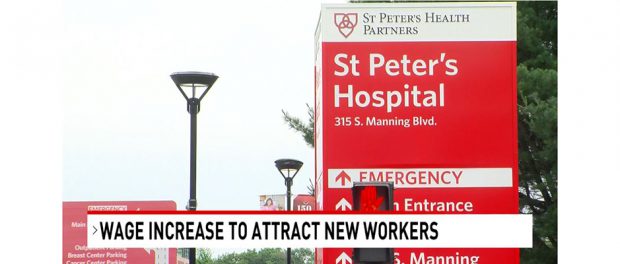 WRGB/CBS 6 News recently reported in two separate stories on St. Peter's Health Partners' move to increase its minimum wage to $15 an hour, more than the federal or state minimum wage.
The first story focused on the increase and its impact on SPHP colleagues. From the story:
"As a people-centered organization, we want to show our commitment to all levels of talent in our system. This decision to increase our minimum wage is aligned with our Mission which reminds us of our moral obligation to care for one another," said James K. Reed, M.D., president, and CEO of St. Peter's Health Partners. "I am grateful for the ongoing dedication and resilience of our employees to that Mission, especially as we begin to emerge from the COVID pandemic."
The second story reported on the increase in the context of several organizations in the Capital Region offering incentives to prospective employees. From the story:
"We feel that this will help to attract and retain talent. Again people who maybe weren't thinking about coming back to work, but this is more money," said Katy Hoffman, chief human resources officer for St. Peter's Health Partners.

[St. Peter's] also tell us the higher wages and their benefit package could also attract those who lost their job due to the pandemic.

"I think the whole package together could attract those that aren't working right now," Hoffman said.