WTEN: Renewed COVID Case Wave Sends Local Nurses in Search of Mental Health Services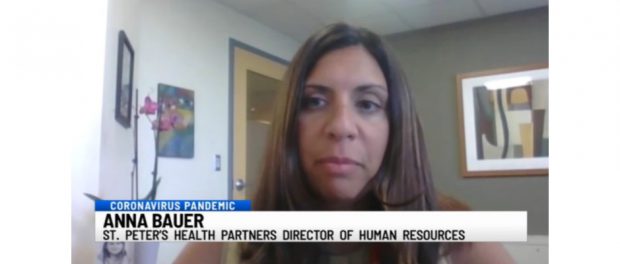 Anna Bauer, director of human resources and business partner, SPHP, appeared on WTEN/News10 to discuss mental health support services for colleagues, struggling under the stress of another COVID-19 surge.
From the story:
"We are seeing a significant increase in the number of inquiries for mental health and well-being support from individuals who in the past, might historically not engage in treatment," adds St. Peter's Health Partners Director of Human Resources Anna Bauer.

….

Over at St. Peter's Health Partners, Bauer says the hospitals have increased counseling resources, one-on-one check-ins with staff, and even extending help with groceries or transportation to take a little extra load off.

"It's the small things. Reaching out, how are you? No really, how are you doing, is there something that we can do for you?" she relates.
Click here to watch WTEN's full report.