WTEN: Women's Health Wednesday — The Warning Signs of Endometrial Cancer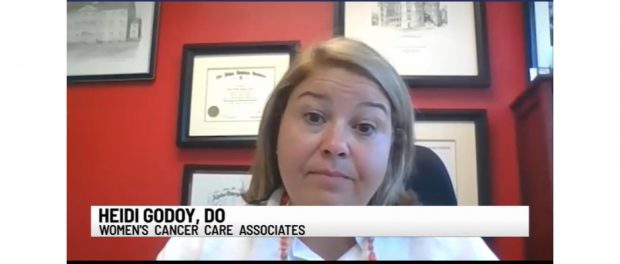 Heidi Godoy, DO, a gynecologic oncologist with Women's Cancer Care Associates, appeared on WTEN to discuss endometrial cancer. Dr. Godoy, who is also a member of the Minimally Invasive Surgery team at St. Peter's Health Partners, discussed the symptoms of the disease, as well as treatments, including robotic surgery.
From the story:
Endometrial cancer most often affects postmenopausal women. Endometrial and uterine cancer are used interchangeably, says Women's Cancer Care Associates Gynecologic Oncologist, Dr. Heidi Godoy.

Endometrial cancer grows in the endometrium or lining of the uterus. It's referred to as carcinoma and is a common diagnosis for women. Uterine or endometrial cancer is usually diagnosed through an endometrial biopsy. The procedure is done in a physician's office and typically takes about 10 minutes, explains Dr. Godoy.
Click here to watch the full report.